Le Bourget. 22 June 2017. Signing ceremony of the Satair Group & Safran Nacelles deal at Paris Airchow 2017. Right: Bart Reijnen, CEO of Satair Group. Left: Safran Nacelles CEO Jean Paul Alary.
Satair Group has signed its first major contract with Safran Nacelles, covering global lifetime supply chain services for engine nacelle parts and components used on Airbus A340-500/600 jetliners.
Under the terms of the agreement, Satair Group has now assumed responsibility over Safran Nacelles' entire supply chain for the A340 nacelle elements, carrying out support duties through the lifetimes of the four-engine aircraft. There are currently 90 A340-500/600s in operation, and Satair Group estimates the aircraft type will remain in service beyond 2030.
A physical transfer of Safran Nacelles' A340 nacelle parts inventory has been made from the company's Paris support center to Satair Group's Copenhagen facility. Safran Nacelles will continue a direct working relationship with its A340 customers for overall customer support, nacelle maintenance and repair (MRO) services – as well as engineering support.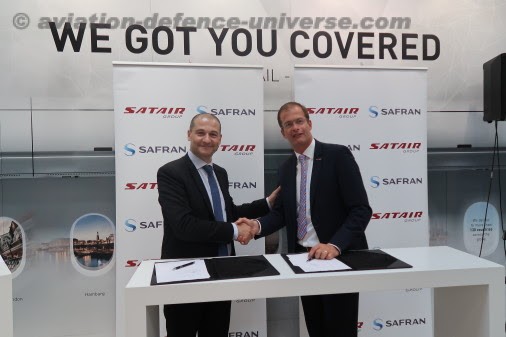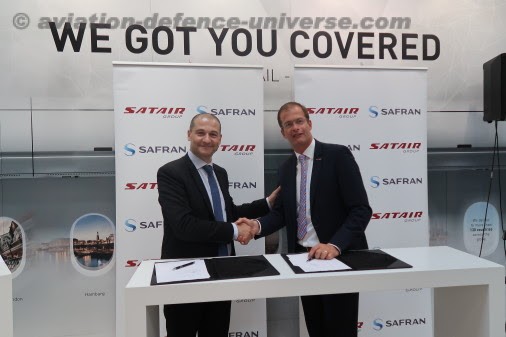 "This agreement with Satair Group, on the entire supply chain for this legacy nacelle program, enables us to focus on our utmost mission as a nacelle designer and integrator for current and future programs, while also maintaining our MRO and technical support provided to A340 operators," explained Safran Nacelles CEO Jean Paul Alary. "With Satair Group, we have found a partner that brings its logistic expertise to manage efficiently the supply chain."
Bart Reijnen, CEO of Satair Group commented: "We look forward to working closely with Safran Nacelles in ensuring the best possible logistics services for its customers, who will benefit from the ability to pool more parts through our efficient supply chain and global distribution."
The A340-500/600 nacelle was the first such system completely designed and supplied by Safran Nacelles, elevating it from a component manufacturer to a nacelle integrator.
Satair Group provides genuine Airbus Material Support and is the sole Airbus authorised distributor for a wide range of Proprietary Products and Services accessible through the trading partner Airbus SAS. In addition, the company provides genuine OEM parts distribution and offers an exhaustive and innovative multi-fleet service portfolio to OEMs and customers. Satair Group is a stand-alone company and 100% Airbus subsidiary.