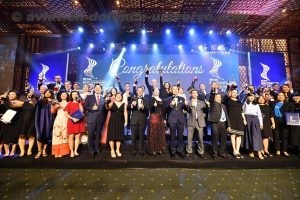 Ho Chi Minh City. 11 July 2019.Vietjet has been honored at the "HR Asia – Best companies to work for in Asia 2019" ceremony, held by the Asia's leading human resource magazine – HR Asia Magazine in Ho Chi Minh City to recognize the Vietnamese companies having Asia's best working environment.
The HR Asia Awards is a prestigious award that evaluates and honors companies with excellent working environments throughout Asia, being held annually in many Asian countries as Hong Kong, Singapore, China, Malaysia, Indonesia, Taiwan etc. Other companies in Ho Chi Minh City such as HDBank and Sun Group also received the award.
HR Asia's in-depth surveys with senior executives, HR managers at leading Vietnamese companies on HR policies, recruitment, strategy to develop excellent working environment etc. helped to select Vietnamese companies that deserved to receive this prestigious regional award.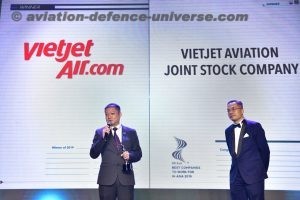 Speaking about the award, Vietjet Managing Director Luu Duc Khanh said: "Our company's greatest asset is our employees, and thus, we take great pride in creating a work environment and culture that fosters success. Vietjet's success is contributed by the performance of each employee and team work and this award is especially exciting as employee survey add part of the evaluation. We will continue our commitment investing in employee well-being and engagement in order to ensure our further success."
The new – age airline Vietjet not only creates a "revolution" in the aviation industry by offering flying opportunities for millions of passengers all around the region and the world, but also being highly appreciated by its young, dynamic working environment, good benefits etc.. Vietjet has been honored as Asia's Best Employer for many consecutive years, top 500 leading Asian brands, top 50 airlines worldwide by Air Finance Journal for financing and operations and many domestic, international awards.