New-age carrier aims to increase air transport revenue, expand its international flight operations and increase ancillary revenue proportion through 2019
Led by Vietjet, the aviation and tourism industries continue to be bright spots for growth and investment in Vietnam **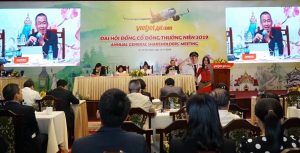 (Ho Chi Minh City, April 19, 2019)– Today, Vietjet Aviation Joint Stock Company held its Annual General Shareholders' Meeting in Ho Chi Minh City. By the end of 2018, the new-age carrier Vietjet had continued to record high and sustainable growth in all targets,which, had been set in the context of the national GDP reached to 7.08%.
Vietjet operated 16 new aircraft with an average age of its fleet only 2.82 years. In 2018, Vietjet also became the first carrierto operate the new generation aircraft A321neo, which saves up to 16% in fuel consumption, contributingto Vietjet's reduction of total operating costs.
Last year, Vietjet transported over 23 million passengers across all flight networks and operated 118,923 flights with 261,000 safe operating hours. The airline's load factor was recorded at 88.06%andits technical reliability rate reached 99.64%, which along with other safety indicators regarding flight operations and ground operations, meant it was one of the leading airlines in Asia Pacific. Its on-time performance (OTP) was 84.2%,which is over the global OTP average of 78.69%, according to IATA's data.
The airline expanded its international flight network whileimproving service quality with the aim ofboosting foreign currency revenue from ticketing. Vietjet also sought to increase ancillary revenue from additional services and maximize fuel cost advantages at a time when international fuel costswere lower than domestic ones (due to tax, fee policies). In 2018, Vietjet opened one new domestic route and 22 new international routes.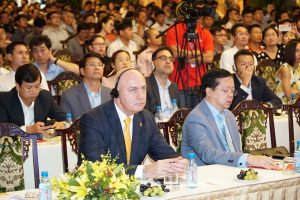 In 2018, air transport revenue for Vietjet reached VND33,779 billion, an increase of 49.8% year-on-year, and 112.2% of its target. Air transport profit before tax increased by 48.9% year-on-year. Ancillary revenue reachedVND8,410 billion, ayear-on-year increase of 53.5%. The proportion of ancillary revenue fortotal revenue also increased from 24.5% in 2017 to 25.4% in 2018 thanks to improving numbers of international transported passengers and the completion of SkyBoss ticket class in addition to diversifying of additional services, such as priority services, seat selection services, sky-shop on board, and more.
When being listedon the Ho Chi Minh City Stock Exchange (HOSE) in 2017, being one of the first Vietnamese companiesto chooseinternational IPO standard (Reg S), Vietjet set out a three-year growth plan for 2017 to2019with the aim of achieving a revenue of VND147,782 billion and VND7,801 billion profit after tax for 2017 and 2018. Results exceeded this forecast when after two years the new age carrier had VND95,879 billion revenue and VND10,400 billion profit after tax. Earnings amounted toVND9,850 per share (EPS) in 2018.
Vietjet has a good record of paying high dividends from year to year with over 50%. With positive business results in 2018, shareholders decided to pay out 55% dividend in both cash and shares.
In 2018, Vietjet successfully retained IOSA International Air Safety Certification (only 8.6% of the world's airlines have this certificate) and completed an evaluation according to ISO 27001 standards. At the same year Vietjet was awarded the highest ranking for safety with 7-stars by the international institution AirlineRatings.com.
By December 31, 2018, Vietjet employed a total of 3,850staff from over 30 nations, all of whom will serve the airline's international development strategy, an increase of 24.3% year on year. In 2018, Vietjet also trained 68 cadets who have now become pilots.
At the beginning of November 2018, Vietjet launched the Aviation Academy with a state-of-the-art flight simulator complex (Full Flight Simulator) in partnership with Airbus. The academy is EASA (European Aviation Safety Agency) approved and certified to European standards and meets the world's leading aviation standards. Up until the end of last year, the flight simulator had provided more than 910 training hours. The academy also conducted 924 courses for 21,611 trainees, including 157 pilot training courses, 127 cabin crew training courses and 128 engineer training ones, and more.
Vietjet was granted many prestigious awards in 2018.Most notably, the new-age carrierwas listed in the Top 50 airlines for healthy financing and operationbyAirFinance Journal.Ranked22ndoverall, the airline was named ahead of many of the world's most prestigious airlines.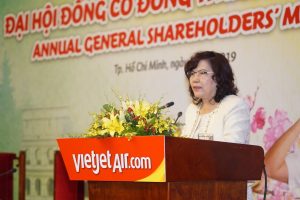 In 2019, planning to open 20 moreinternational routesand transport nearly 28 million passengers, Vietjet expects to increase its air transport revenue to VND42,250 billion and air transport profit at VND3,800 billion. To achieve this, the airline will continue to focus on international route expansion to promote foreign currency revenue from ticketing, while taking advantages of international fuel prices being lower than domestic ones, and increasing ancillary revenue which has a higher profit margin in the high-income passenger segment.
At the meeting, Mr. Donal Joseph Boylan (born in 1963)was elected as an independent member of the Board of Directors for the 2017 – 2022 term. Mr. Boylan has more than 30 years of experiences in aviation and air financial industry, and has held executive and leadership roles at large institutionsand listed companiesboth in Europe and Hong Kong.
The delegation also received details ofVietjet's three-year development orientation report. In the next three years, Vietjet aims to maintain its leading position in domestic transport, effectively expand international routes,explore investment opportunities for infrastructure, terminals, technical services, ground services and training to promote the airline's experience, advantages, efficiency.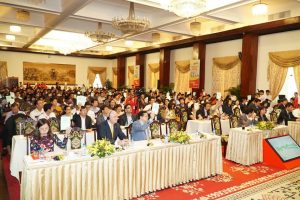 Positive results over the years and through 2018 will serve as a platform forthe airline to meet expectation plans for 2019, reaffirming the company'ssound strategy to maintain momentumof growth and fulfil the airline's vision of creating more flying opportunities to people, supporting tourism development, bringing values,efficiency to investors,and continuing to be a safe, efficient regional and international carrier.