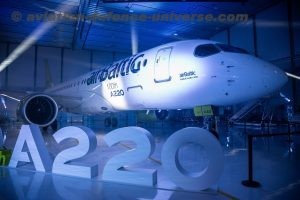 MIRABEL, Canada, December 2, 2019 – Pratt & Whitney, a division of United Technologies Corp. (NYSE: UTX), joined Airbus in celebrating the 100th A220 customer aircraft, exclusively powered by Pratt & Whitney GTF™ engines. The A220-300 aircraft is destined to Latvia-based air Baltic.
"We are honored to celebrate the 100th GTF-powered A220 aircraft on the three-year anniversary of our first delivery," said Martin Gauss, CEO of airBaltic. "Our customers love the quietness of the environmentally-friendly engines and we love that the GTF brings a level of efficiency and fuel savings that is unparalleled in the marketplace."
GTF engines currently power A220 aircraft on four continents and have accumulated nearly 600,000 engine revenue hours since entering service. The world's first A220—formerly called the C Series—was an A220-100 aircraft delivered in June 2016 to SWISS. airBaltic became the launch operator for the A220-300 aircraft later that year in November 2016 and has since then re-ordered the A220-300 aircraft twice, bringing its firm order to 50 aircraft.
"Congratulations to Airbus, airBaltic and to the entire A220 program on this exciting milestone," said Jessica Villardi, executive director, Regional Jet GTF Programs at Pratt & Whitney. "GTF customers are flying further with less fuel and opening new markets, which benefits global commercial air travel. We are proud to support our A220 customers and look forward to the fleet continuing to grow."
The A220, exclusively powered by the GTF engine, offers double-digit improvement in operating costs compared to current generation aircraft. It's 20% more fuel efficient and provides a 75% reduction in noise footprint and NOx emissions 50% below the ICAO CAEP 6 regulation.