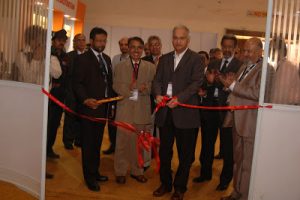 New Delhi. 29 January 2021. MRO India had its humble beginning in March 16-18, 2011, when the event was inaugurated by the then Chairman and Managing Director of Air India, Arvind Jadhav,  had a small number of participations in the exhibition, but a large participation from delegates and speakers from India and overseas.
Subsequently, Pulak Sen, then Convenor of the movement, now Founder & Secretary General, called for several meetings of the stakeholders to moot the idea of forming MRO Association of India. Which was formally formed on June 8, 2011 as a Non-profit Professional Society which represents the interest of all its members, voice the issues to various Government bodies and regulatory authorities & work towards development of MRO as an industrial sector in India.
The objective of the Association is Catalyzing reforms through proactive interactions with the Ministry of Civil Aviation (MoCA) and the Directorate General of Civil Aviation (DGCA), Defence Ministry, Ministry of Finance, the Prime Minister's Office, etc.
• Promoting the Indian MRO Industry by creating an environment for a safe, sustainable and economically viable industry
• Bringing Awareness and Visibility through Conferences and Seminars
• India's Only MRO Forum is Aero MRO Aerospace & Defence, which is held annually since 2011
• Reviewing & providing courses/ modules to the young Aerospace and Aeronautics Engineers in India, thereby reducing the gap between industry demand and student's knowledge for their suitability in meeting the skill sets required by the industry
With effectively engaging with the Government of India, MRO Association of India was able to over the last decade have been able to get some reforms for the Indian MRO Industry. They include exemption of custom duties on aircraft tyers, spare parts and test equipment announced in budget 2012-13, reduction of royalty charged by AAI from 36 per cent to 16 per cent, which unfortunately has again gone up in recent times. MoCA is working hard to get it totally exempted. Exemption of VAT by Govt of Maharashtra on MRO, Creation of a separate chapter on MRO in NCAP 2016 in a Paper on Vision 2020 for Aviation. Reduction in lease rental and the biggest achievement has been the reduction of GST from prevailing 18 per cent to 5 per cent for MRO services. However, there still remains an anomaly in the rate of IGST charged by the Indian Customs.
From its humble beginning in 2011, MRO Association of India and its annual event has grown in strength to strength. India's Only MRO Forum as the association and its event earned their fame by the name, over the one-decade regular speakers have addressed the forum from the Ministries of Civil Aviation, Defence, Finance & Revenue, Industry Leaders, stakeholder, etc. Similar has been participation from the industry for the exhibition.
This year AERO MRO INDIA 2021 is being organized digitally on an indigenous platform. MRO Association of India will not rest on the laurels it has so far achieved. It's a long was to go and the confidence to reach there.