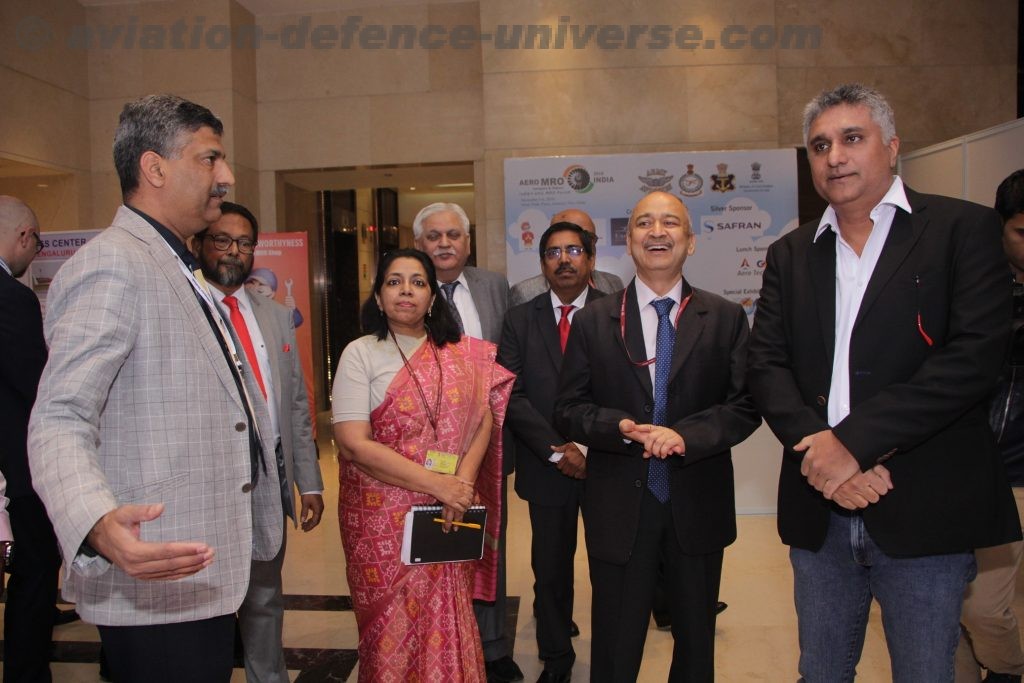 New Delhi. 23 January 2021. MRO Association of India's annual event Aero MRO India A&D 2021 will be inaugurated on January 30. India's Only MRO Forum will be held Digitally due to the global pandemic. As the on-ground event ran for two full days, the association has decided to divide this year's event in three parts – Inauguration on January 30, Part 2 on February 27 and Part 3 on March 27 culminating the usual Award Ceremony.
The theme of this year's event Aatma Nirbhar Bharat – self-reliant India based on the Hon'ble PM's clarion call. The Ministry of Civil Aviation and the Government of India is working tirelessly with the Association to bring better reforms for the Indian MRO Industry. The biggest relief to the Industry was the Government's decision to reduce GST from prevailing 18 per cent to 5 per cent effective April 1, 2020. However, with the global pandemic setting soon after and the closure of air service affected the aviation industry the effect of this bonanza has yet to be experienced.
The January 30 programme pans out with a welcome speech by the Association President Bharat Malkani, Keynote Address by Pradeep Singh Kharola, IAS, Secretary, MoCA on the topic Government initiatives toward the Indian MRO Industry towards Aatma Nirbhar Bharat, the Second Keynote Addressed by Joint Secretary MoCA Amber Dubey on the topic The key focus areas to create a sustainable, investor friendly and self-sufficient aviation MRO and Logistics ecosystem followed by a special presentation by Col. (Retd.) K. V. Kuber, Director, Earnest & Young on Unlocking growth potential in Defence MRO and the next frontier to accelerate in country production.
A very popular and pertinent topic with our armed forces acquiring arial platforms will be discussion in a Panel Discussion on Taking steps towards converging Civil and Defense MRO and what is the scope of opportunities moderated by MAOI President Bharat Malkani with a panel consisting of Rear Admiral V. M. Doss, ACNS, Air Material, Indian Navy, Air Marshal (Retd.) Sukhchain Singh, Former AOC, aintenance, Air Headquarter, IAF,Rear Admiral Surendra Ahuja (Rtd.), MD Boeing Defence India, Anand Bhaskar, CEO, Airworks India Pvt Ltd. and Anil Kumar, GMR AeroTechnic.
Vandana Agarwal, Sr. Economic Adviser, MOCA will deliver the third Keynote Address on Key initiatives undertaken to improve the economic viability of component MRO business in India.
The second Panel Discussion of the day will be on What are the requirements to boost the component MRO and manufacturing in India? moderated by Rohit Tomar, Managing Partner, Cala Caladrius Aero with panelist comprising of Ms. Ashmita Sethi, Country Head, Pratt & Whitney, Pierre Dickeli, CEO, SAFRAN India, Ashok Gopinath, CEO, GMR AeroTechnic, D. Uma Maheshwar, Chief Consulting Engineer, GE Aviation India and Sharad Agarwal, GM Quality and Chief of Quality, Air India Engineering Services Ltd.
The next highlight of Day 1 will be the launch of Aircraft Decommissioning Report a document prepared by MRO Association of India and Caladrius Aero Consulting LLP. The other high light will be Signing Ceremony between BuildAir of Spain with Global Aerospace of India.
Sum-up and declare Day -2, February 27,201 agenda will be delivered by Rohit Tomar.
Aero MRO India A&D January 30 programme will start at 1100 hrs. and will close at 1500 hrs. with power packed speakers and topics. You can log on to https://mro.mylivefest.com/ to register and participate in the event.