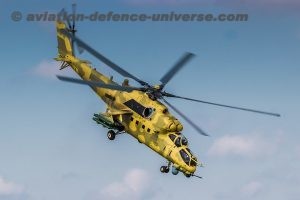 Moscow. 12 April 2021. Such contracts were signed by Russian Helicopters holding company (part of Rostec State Corporation) in November and December 2020 with Industria de Aviacao e Servisos (IAS), an authorized company of Brazilian Air Force. In accordance with contracts, Russian Helicopters will supply repair and maintenance complexes for parts which will be repaired in Brazil, and a range of new parts. The company will also repair some parts in Russia. Besides, specialists from National Helicopter Center Мil&Kamov will extend time between overhauls for Mi-35M helicopters on an individual basis.
Helicopters will be repaired in IAS service center established as part of Russia's offset obligations under the contract for supplying 12 Mi-35M helicopters to Brazil.
"This project is of special importance for us, and we are ready to implement it. I am convinced that our partners from Brazil will be able to tackle some technical issues quickly to start the work. For instance, we expect that IAS will sign five supplementary agreements and send to us the lists of parts for replacement or repair in Russia, approved by Brazilian Air Force. We cannot start production and assembly of property and parts necessary for overhaul without these documents," emphasized Director General of Russian Helicopters holding company Andrey Boginsky.