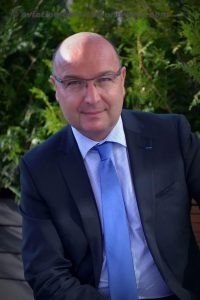 New Delhi. 07 October 2018. "Given that MBDA's weapons are the most capable, are available on the widest range of platforms, and MBDA is able to offer very deep  levels of industrial partnership, it's no surprise that MBDA sees a very positive future in its relationship with the Indian Air Force, " said Loïc Piedevache, Country Head, India, MBDA in an exclusive interview to Aviation & Defence Universe (ADU).
ADU. As the Chief Executive of MBDA India, how do you perceive the prospects for the company in
the next five years?
LP.  For over 50 years MBDA has been delivering battle-winning capabilities to the Indian Armed Forces and co-operating with Indian industry, and throughout this our strategy has been one of true partnership. We have an excellent track record in terms of providing both operational and industrial capabilities, and given the strength of these two pillars we feel we are very well placed to continue our partnership with India for the future. Our joint venture with Larsen and Toubro is an evidence of our confidence and desire to continue to deepen our partnership with Indian industry and the Indian Air Force.
ADU. To what extent and in what way will MBDA's investments in India impact the growth of
international business for the company?
LP.  We see continued partnership with India as entirely positive for MBDA. International investment and partnership is in our DNA, after all MBDA is the product of the cooperation of the missile industries of five European nations working together to develop their capabilities. This is why MBDA uniquely able to co-operate with India
and understand its needs and desires for developing its industry. Given this, it is no surprise we have a long history of active partnership with Indian industry, which is evident through our successful track record in Indian manufacturing. MBDA is keen to continue this proud history and in supporting the Make in India initiative, as
evidenced by initiatives like our JV with L&T.
ADU.  Looking back at the Modi's Make in India, how has the year been for MBDA? What are the high points and the low points in the context of Indian defence business? Is MBDA in the process in identifying more partners to keep in step with Make in India?
LP. It has been a positive year for MBDA, with perhaps the highlight being the debut of L&T MBDA Missile Systems Ltd, our Joint Venture with Larsen & Toubro, at Defexpo 2018 in Chennai in April. The joint venture has had very positive dialogues on the series of missile systems is has offered to address Indian Armed Forces requirements
under the Make in India initiative. Of course we also continued to deliver on target and on budget all our many existing programmes with India, meeting our commitments to the Indian Air Force customer.
ADU.  Despite of all controversy on the Rafale deal all concerned parties have praised the MBDA missiles to be a part of Indian Rafale. Do you see a positive business in the forthcoming fighter procurement to fulfill the 42 squadron strength need of IAF?
LP. MBDA's air launched weapons capabilities are unrivalled, whether it is the game changing ramjet powered Meteor missile, our MICA and ASRAAM dogfighting missiles, or our wide range of air-to-surface and anti-ship weapons such as Exocet, SCALP, Marte or Brimstone, all are best-in-class systems that offer unequalled
capability to the Indian Air Force.
ADU. What is the status of the JV between L&T and MBDA?
LP. L&T MBDA Missile Systems Ltd is fully up and running and is actively offering a number of capabilities to the Indian Air Force. We are looking to set up a missile systems plant in India capable of significant levels of production, not only in terms of quantity but also regarding technology of the highest level. The JV has already identified several concrete projects on which our teams are working actively.