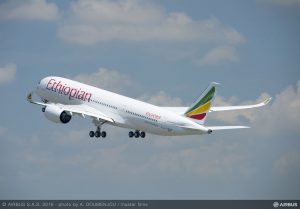 Addis Ababa. 01 July 2016. A350 XWB became a part of the Ethiopian Airlines't fleet, on lease from AerCap. The African airlines  has ordered 14 of them, twelve of these are being directly ordered from Airbus, with the other two aircraft on lease from AerCap.
The carrier will deploy the aircraft on its expanding route network connecting Addis Ababa with destinations in Asia and America.
The A350 XWB features the latest aerodynamic design, carbon-fibre fuselage and wings, plus new fuel-efficient Rolls-Royce Trent XWB engines.  Together, these latest technologies translate into unrivalled levels of operational efficiency, with a 25 per cent reduction in fuel burn and emissions in addition to significantly lower maintenance costs.
To date, Airbus has recorded a total of 802 firm orders for the A350 XWB from 42 customers worldwide, already making it one of the most successful widebody aircraft ever.