Schoenefeld, Berlin. 27 June 2020. Boeing builds on its established network of nearly 100 suppliers and partners across Germany. German technology is an integral part of every Boeing commercial airplane program. German industry also contributes to key Boeing space programs and defense platforms such as satellites, the Space Launch System, the CH-47 Chinook, the KC-46A Tanker or the P-8A Poseidon maritime patrol aircraft.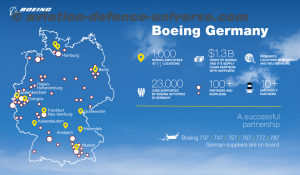 With research sites in Munich and near Frankfurt, Boeing invests in a large portfolio of research and technology partnerships together with German industry, universities and research organizations, jointly shaping the future of aerospace.
Boeing Germany supports innovative STEM learning programs such as the "Magical Physics" program of the Bürgerstiftung Berlin or the "Newton Room" concept of the non-profit organization FIRST Scandinavia to inspire young innovators and to encourage students to pursue careers in STEM fields such as aviation and aerospace.