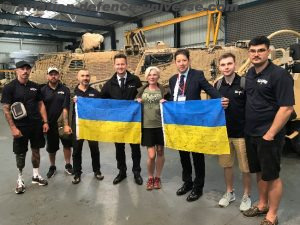 Farnborough, UK. 24 July 2022. Yuliia Paievska, the famous 'Taira' Angel of Mariupol who saved 500 Ukranian lives in the conflict visited NP Aerospace's Foleshill Road facility this week to find out what goes into manufacturing life-saving armour used by Ukrainian soldiers.
She was accompanied by a group of Ukraine frontline military and humanitarian personnel who are in the UK training for the US Army's Warrior Games in Miami to recognise the resiliency of wounded, ill, and injured veterans.
Yuliia is the founder and leader of Taira's Angels, a volunteer medical evacuation unit which has been working in Mariupol to support military personnel and civilians. Other organisations included in the visit were BRAVO VICTOR and Blind Veterans UK, who are hosting the group, along with members of the Coventry Ukrainian community based in Foleshill.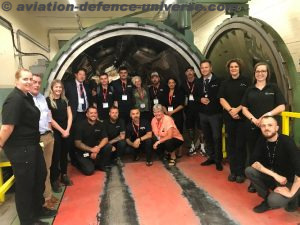 NP Aerospace has manufactured and delivered more than 20,000 sets of life-saving body armour plates and carrier vests to Ukraine military personnel in the last three months and is continuing to increase production to meet demand with the addition of 90 factory operators.
James Kempston, CEO, NP Aerospace, said: "This was a very personal day for our employees who had the opportunity to speak with the individuals using the life-saving products we make on a daily basis. It really puts what we do into perspective when you meet, face-to-face, the soldiers who will one day be saved from the armour you are making. What an honour to meet the Ukrainian Warrior Games team and frontline soldiers. We are pleased to be able to give our support."
Prof. Renata Gomes, Chief Scientific Officer, BRAVO VICTOR, comments: "Preventing injuries in military and veterans is an important part of BRAVO VICTOR's research. We are delighted that NP Aerospace uses knowledge and research to protect those serving."