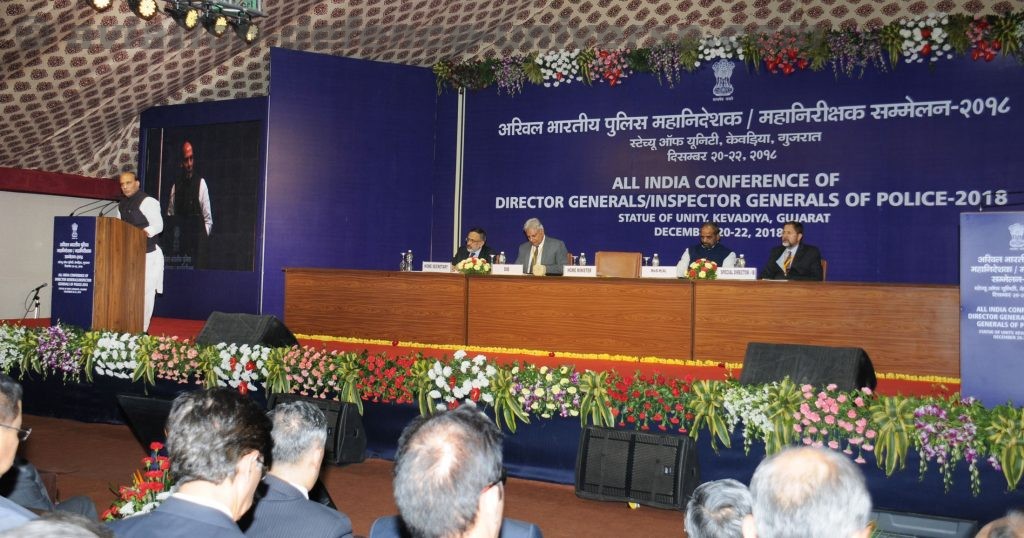 New Delhi. 22 December 2018. Indian Home Minister Rajnath Singh reiterated that Pakistan is perpetrating terrorist activities on Indian soil from J&K to Punjab and the hinterland. He said the security situation in J&K continues to be vitiated even though the stone pelting incidents have declined. "Attempts by militants to infiltrate in large numbers, intermittent attacks by militants and efforts at local recruitment continue. Terror infrastructure in Pakistan and PoK remains in the form of training camps, launching pads and communication control stations. Financing from across for militants and separatists is a cause of concern. The separatists also exploit every possible situation to agitate the people to fan further anti-India sentiments which leads to law and order situation, " he said.
While speaking with DGPs of various states the Union Home Minister directed the security establishment to check efforts to revive terrorism in Punjab. "In Punjab, recent terror incidents and related interdictions indicate concerted efforts on part of Pak-establishment and Sikh extremist elements based in Pakistan to revive terrorism in Punjab with active support of other Sikh radical/extremist entities based abroad, especially Europe and America. Pak-establishment is also seeking to forge an understanding between Sikh extremist groups and Pak-based Islamist outfits as well as Kashmir-centric terrorist groups for targeting Indian interests," he said.
Rajnath Singh said our "economic installations and iconic institutions" are also being continuously targeted from across the Western border through espionage and cyberspace. "Pakistan continues to abet terrorism and during the period January 01, 2017 to November 29, 2018, 17 ISI backed espionage modules have been neutralized in the country resulting in the arrest of 25 espionage agents which include 02 Pakistanis. Various sensitive organizations, including the Indian Army, Air Force, Navy, ITBP, DRDO, BSF, CRPF, MEA, Airport Authority of India, Ministry of Petroleum and Natural Gas and the Indian Railways, etc. have been targeted by PIOs from across the border through spoofed / crank calls to elicit sensitive information," he said.
He assured that the Government is simultaneously pursuing diplomatic efforts to stop terror emanating from Pakistan. "India is a Member of Financial Action Task Force (FATF), an inter-Governmental Body, which makes recommendations relating to Combating of Financing of Terrorism, Money Laundering, etc. Efforts on this platform by India have ensured that Pakistan is rightly put on grey list."