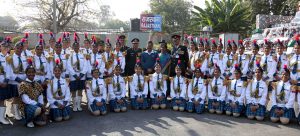 New Delhi. 09 January 2019. Chief Minister of Delhi Arvind Kejriwal visited the DG NCC Republic Day Parade Camp at Delhi Cantt here today. In his address, Shri Kejriwal praised the cadets for their immaculate turnout and excellent drill movements. The CM lauded the efforts of the NCC, in bringing about a change in the attitude of the youth of the nation, by its untiring efforts and dedication.
In all 2,070 Cadets, including 698 girl cadets drawn from 29 States and 07 Union Territories of the country,are participating in this Camp that culminates with Prime Minister's Rally on 28 January 2019.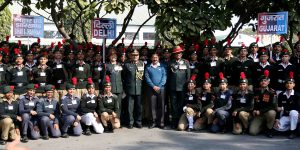 A contingent of smartly turned out NCC cadets, drawn from all the three wings of the Army, Navy and Air Force, presented 'Guard of Honour' to the CM, on his arrival. Kejriwal was received by Director General, National Cadet Corps (DG NCC)Lt Gen PP Malhotra. The Chief Minister also visited the well laid out 'Flag Area' prepared by the NCC Cadets from the 17 NCC Directorates depicting 'Unity in Diversity' and various social awareness themes. He was also crisply briefed by Cadets on their respective sand models. The CM along with other distinguished guests later witnessed a spectacular 'Cultural Programme', by the talented Cadets in the NCC auditorium.