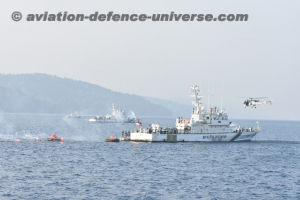 New Delhi. 21 March 2018. The Regional Level Marine Search And Rescue Exercise – 2018, was conducted at sea off Port Blair. The objective of the exercise was to ascertain preparedness of the Indian Coast Guard along with stakeholders in responding to a major marine/aircraft accident in Andaman seas in line with the provisions of National Maritime Search and Rescue(NMSAR) manual.
The highlight of the exercise was participation of one newly commissioned Coast Guard Ship "Sujay" along with 08 Coast Guard ships of A&N Region; integration of Indian Coast Guard Dornier & Chetak alongwith Indian Air Force MI-17 aircraft into Search & Rescue operation. Representatives from various stake holders also participated in the exercise as observers.
The exercise was conceptualised and executed by Coast Guard Regional Commander Inspector General KR Suresh, TM and was overseen by Shri Anindo Majumdar,IAS, Chief Secretary (Andaman & Nicobar) embarked onboard Coast Guard Ship "Sujay" along with Ms Nuzhat Hassan, IPS, DGP(A&N).
The exercise was therefore planned to evaluate the preparedness for Search & Rescue Response for ditched civil aircraft off Port Blair. The support and cooperation provided by all stakeholders, is indicative of the resolve and firmness in such scenario.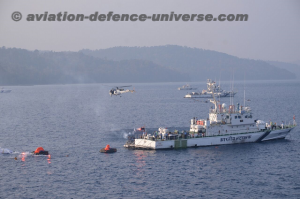 The exercise evolutions included mobilisation of ships & aircraft of all resource agencies in Andaman Region, exercising reporting procedures, testing of distress communication links, deployment of CG Dornier for realtime reporting of situation and dropping of liferaft thereafter. The exercise at sea was focussed on mass rescue techniques, wherein the modules included; fire fighting, rescue of survivors by helicopters, rescue by life rafts & scramble nets, mass rescue by boats & divers and also evacuation of critical injured on stretcher by helicopters.
Representatives from the resource agencies, stakeholders and Andaman administration as observers embarked Coast Guard Ship "Sujay" for witnessing the exercise at sea. Correspondents from electronic and print media also witnessed the exercise.
Indian Coast Guard along with 29 stakeholders is responsible for marine search and rescue in the Indian search and Rescue Region over Indian Ocean. The Force has drawn up a Regional level SAR plan in tune with National SAR plan. A robust National search and rescue system for dealing with any contingency at sea is critical for trade and economical growth of the Nation. The Great Channel between the Nicobar Islands and Northern Sumatra that leads into the Malacca Straits is the Marine Drive of the high seas. Almost 220 ships cross the 160-km wide Straits daily making it among the busiest sea routes of the world and is highly venerable to accidents.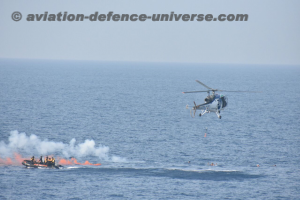 Besides traffic through six degree channel, ten degree and coco channel also see significant daily traffic of large merchant vessels passing through. Safety of life and property at sea is thus important to enhance confidence in mariners, and thus ensuring continuous economic activities. Also, a large air traffic transits overhead Andaman sea amounting to over 800 aircraft criss crossing on daily basis.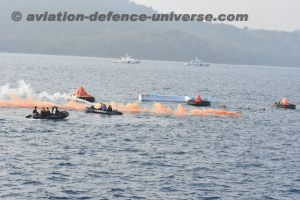 This Regional Level SAR exercise was the part of the regional efforts to validate and improvise the recently formulated MSAR plan for the A&N Region. Therefore, participation of all stake holders during such SAR exercise is appreciated to analyse the operations and will help in plugging any leakages that could cost precious lives during actual operations.