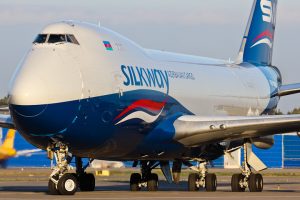 Baku, Azerbaijan. 14 April, 2017 . Boeing and Silk Way announced an order for 10 737 MAX 8 airplanes. The order, valued at $1.1 billion at current list prices, was previously attributed to an unidentified customer on the Boeing Orders & Deliveries website.
"Silk Way's success and profitability is a direct result of investing in its fleet and services and growing its regional and international footprint," said Zaur Akhundov, president, Silk Way Group of Companies. "I am confident we will maintain our rate of growth, supported by 10 new Boeing 737 MAX 8 airplanes."
"We are very pleased to expand our partnership with Silk Way with this airplane order," said Marty Bentrott, vice president of Sales, Middle East, Turkey, Russia and Central Asia, Boeing Commercial Airplanes. "We value our partnership with Silk Way and are grateful for their enduring confidence in the Boeing products."
Azerbaijan-based Silk Way Group includes 23 companies working in the aviation industry and related services including passenger and cargo airlines. The airline currently operates seven Boeing airplanes, including two 767-300 Freighters, three 747-400 Freighters and three 747-8 Freighters.