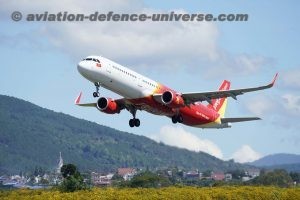 Ho Chi Minh City. 07 January 2021. Welcoming the new year, Vietjet extends its most awaiting ticket promotion, applied to all fare types on its entire flight network in Vietnam.
Accordingly, the all-in ticket fare promotion is resumed from today until January 20, 2021 with 1.5 million tickets priced at only VND555,000 (US$ 24) – including all taxes, fees (*), 7kg carry-on baggage and 15kg checked baggage.
In addition, Vietjet is bringing back the favors for those who love boarding on the brand new Deluxe and enjoy more add-in services from SkyBoss ticket class. Passenger can apply the code DELUXE2021 or SKYBOSS2021 to get 20% off Deluxe and 30% off SkyBoss ticket fares respectively (**). Booking time is from January 8 to January 31, 2021.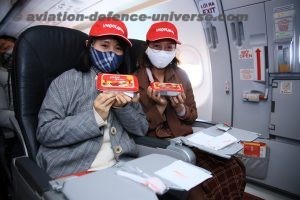 With a long boarding period from now until December 31, 2021 (***), passengers can easily make travel plans throughout the year with affordable costs, plus chances to win big prizes during the Fly High promotion.
Promotional tickets are applied for all Vietnam domestic fare types and available for sale on all Vietjet official sales channels at www.vietjetair.com, Vietjet Air mobile app, Facebook at www.facebook.com/vietjetvietnam (section "Booking") and Vietjet's official agents/ticket offices nationwide. Payment can be easily made with Visa/ MasterCard/ AMEX/ JCB/ KCP/ UnionPay cards. In particular, passengers can enjoy free payment fees when booking and paying via Vietjet SkyClub – a loyalty account integrated into the Vietjet Air mobile app.
Vietjet's safe and quality flights are ready to welcome all passengers with a variety of flight time options, special utilities on new, modern, environmentally friendly aircraft, comfy leather seats, 9 delicious hot meals, served by young and friendly cabin crews and many unique cultural and artistic activities at an altitude of 10,000 meters.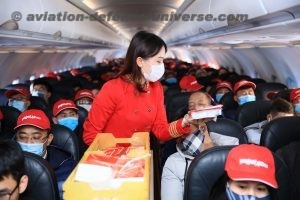 Vietjet would like to notice that all passengers are required to carry out a mandatory health declaration and wear a face mask when checking in at airports and during the flight, etc. All Vietjet flights meet the highest safety standards from authorities, the World Health Organization (WHO) and the International Air Transport Association (IATA) in order to ensure the safety of all passengers, cabin crew and the community.
(*) Excluding payment processing fees
(**) Excluding taxes and fees
(***) Excluding public holidays and Tet