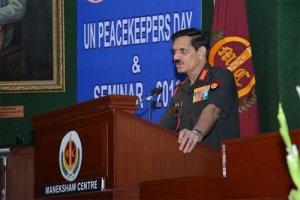 New Delhi. 30 May 2016. On 'International Day of UN Peacekeeper's', a joint seminar on "United Nations Peacekeeping : Role and Relevance in Conflict Resolution" was organized by the Centre for Land Warfare Studies (CLAWS) and Centre for United Nations Peacekeeping (CUNPK) along with United Nations Resident Coordinator's Office.
The event was attended by COAS, members of the diplomatic community, veteran peacekeepers, UN Country Teams, students from prominent universities and Indian Army contingents earmarked for UN deployment.
Gen Dalbir Singh, Chief of Army Staff delivered the inaugural address wherein he applauded the role of UN Peacekeeping Contingents in maintaining peace across the world. He also highlighted India's achievement as the second largest troop contributing country with deployment of 7695 personnel across the globe. Gen Dalbir also applauded the Indian Peacekeepers, 04 from Army and one civilian, who were awarded the UN 'Dag Hammarskjold Medal' this year on 19 May 2016.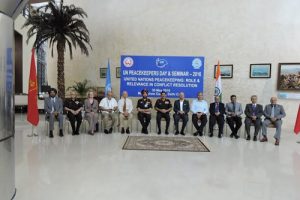 Gen Dalbir further highlighted the necessity of the major Troop Contributing Nations in having a say in the mandate, tasks and policy coordination. He added that mandate of peacekeeping forces was transitioning from Peace Keeping to Peace Reinforcement. The COAS also stressed on the requirement for better training to make sure the soldier's understand the task and the manner in which they are required to operate in actual scenario.
Yuri Afanasiev, United Nations Resident Coordinator in India also read out the UN Secretary General's message, after which homage was paid to the fallen peacekeepers by observing two minutes silence.