New Delhi, 03 June 2017. The five Indian students awarded this year are the fourth group to benefit from the MBDA-ISAE scholarship winners for higher studies in aerospace engineering in France.
A reception at the Residence of France in New Delhi was hosted in honour of these winners. Applauding the successful tie-up, Alexandre Ziegler, Ambassador of France to India, said, "The development of industry-focused academic exchanges is a great asset to foster cooperation between our two countries. I warmly commend this excellent scholarship initiative that helps us in attracting talented Indian students in our country – our target is to welcome 10 000 Indian scholars by 2020. This programme is also emblematic of the strong partnership we have developed with India in sensitive areas, including defence, space and aeronautics."
The third group has already embarked on its final academic year of the two-year study programme where MBDA covers all tuition costs and contributes to students' living expenses in the southern city of Toulouse, France. The Embassy of France, for its part, provides student visa fee waivers, medical insurance coverage and access to affordable accommodation.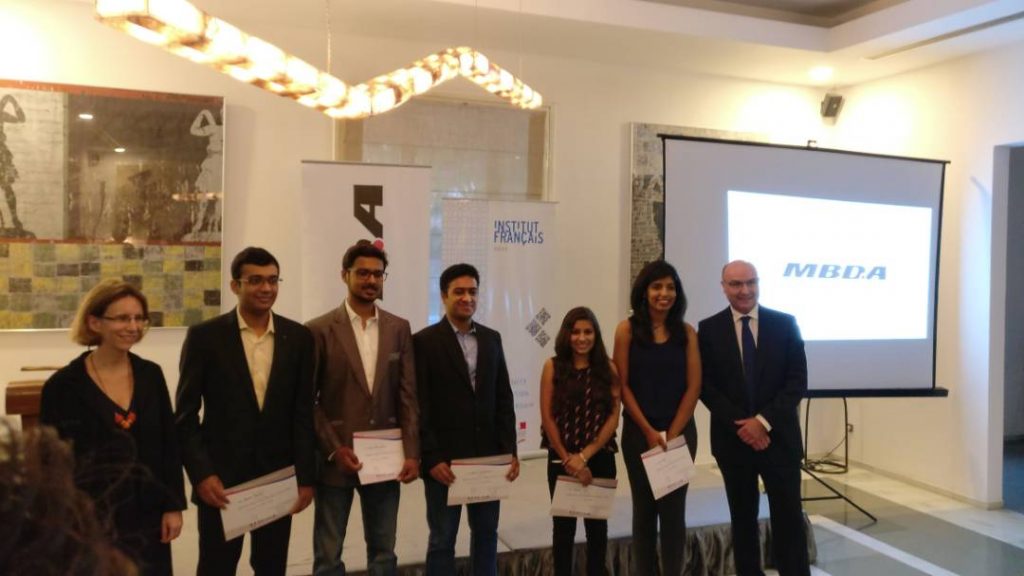 Loïc Piedevache, MBDA India Country Head, talked about the experience these students would have in France: "These bright and very gifted young Indian students are soon to embark on a great learning adventure. Not only will they receive the very best tuition in their chosen area of studies at the prestigious ISAE/SUPAERO in Toulouse, they will also get the chance to mix with other students from around the world and to immerse themselves in French culture. In a truly international environment they will be able to share and nurture their passion for aeronautical technology."
This scholarship initiative came into being following a sponsorship agreement signed by the European missile major, MBDA, with the ISAE-SUPAERO Foundation and ISAE in 2013. Following the success of the first three academic intakes, MBDA announced its decision earlier this year to extend its Programme of Excellence further in collaboration with the ISAE-SUPAERO Foundation, and leading global aerospace engineering university ISAE-SUPAERO, which the Foundation is tasked with promoting. Extended for a further three years, the programme will now carry on to the academic year commencing 2020.
A bright future also lay ahead for these students upon their return to India, according to Piedevache: "India has set its stall on 'Make in India' as the way forward for its industrial and economic future. To make this happen, India will need to call on the skills of its youth, it will need to call on the people like these young students attending this reception today. In this respect, and as a proud and longstanding partner of India, MBDA is delighted to be involved in this important educational programme".
On successfully completing their studies, students will be awarded an internationally recognised MSc in Aerospace, Mechanics and Avionics. The five students attending the reception, aged between 21 to 23 years old, are graduates from various Indian institutions of higher education selected by an admissions panel constituted and administered independently by the ISAE.