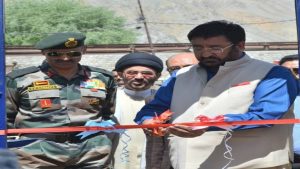 Srinagar. 24 May 2017. 68th "Kargil Yom-e-Fateh" was celebrated at Biamathang ground Kargil on 24 May 2017 to mark the liberation of Kargil from the Pakistani Raiders in 1947.
The event organised by the Army was graced by the presence of Kacho Ahmed Ali Khan, CEC, Ladakh Autonomous Hill Development Council, Kargil, Haji Aniyat Ali, Chairman Legislative Council Jammu and Kashmir, Major General CP Cariappa, SM, VSM,senior officers of the Army, various civil dignitaries and large number of locals of the Kargil region.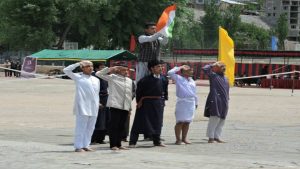 There were several cultural programmes presented by the locals and children of Army Goodwill Schools which show cased the rich and vibrant cultural heritage of the Kargil. The Army displayed various weapon systems and equipment, which was thronged by large number of inquisitive locals especially the youth.
The Army organized Medical Camps and various stalls to provide assistances to the locals gather to celebrate the event. The event displayed the great and long-standing bonhomie between the Army and the local population who have stood together in all battles fought since 1947 to face the enemy, giving a befitting reply each time.