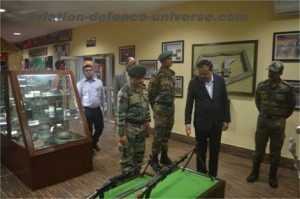 New Delhi. 13 December2017.  MOS(Defence) Dr Subhash Bhamre continuing with his visits to formations deployed along the line of actual control, visited the Dao Division HQ at Dinjan in Eastern Assam. He was accompanied by GOC Spear Corps Lt Gen Anil Chouhan and other senior officers of the Army.
 The Minister was briefed by GOC Dao Division Maj Gen Gajendra Singh about the situation and defence preparedness along the Line of Actual Control in Eastern Arunachal Pradesh, insurgency situation in Eastern Assam and progress on infrastructure development in the region.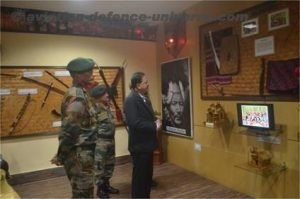 He also visited the Heritage Hall in Dinjan Military Station, which showcases the glorious past of the Dao Division and rich heritage and culture of upper Assam and Arunachal Pradesh. The two-day visit of Dr. Bhamre concluded with Air Force Station Chabua in Eastern Assam where he interacted with the Air Warriors.