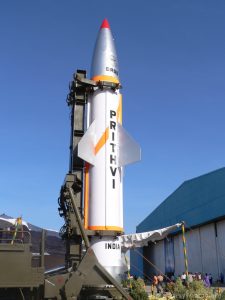 New Delhi.20 May , 2016.  India recently test-fired its nuclear capable Prithvi-II missile as part of a user trial by the army. The trial of the surface-to-surface missile was carried out from a mobile launcher from launch complex-3 of the Integrated Test Range (ITR) .
Prithvi-II is capable of carrying 500 kg to 1,000 kg of warheads and has a strike range of 350 km. Inducted into Indian armed forces in 2003, the nine-metre-tall, single-stage liquid-fueled Prithvi II is the first missile to be developed by DRDO under India's prestigious IGMDP (Integrated Guided Missile Development Program) and is now a proven technology, defence sources said.
Developed by DRDO Prithvi Missile is a Surface-to-Surface Battle field Missile. It uses a single state, twin-engine liquid propulsion system and strap-down inertial guidance with real-time software incorporated in the onboard computer to achieve the desired accuracy during impact. Prithvi has higher lethal effect compared to any equivalent class of missiles in the world. Prithvi is a unique missile today having manoeuverable trajectory and high level capability with field interchangeable warheads.