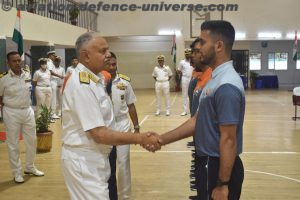 New Delhi. 12 August 2022. As part of Swarnim Vijay Varsh celebrations, the Western Naval Command had launched an expedition to Mount Trishul in September 2021. During the summit attempt, a sudden and unexpected avalanche had caused the lead team of five naval personnel, Lt Cdr Rajanikant Yadav NM, Lt Cdr Yogesh Tiwari, Lt Cdr Anant Kukreti, Lt Cdr Shashank Tewari NM, Hariom MCPO II (GW) NM and Sherpa Dupka Tshering NM, to suffer a fatal fall, resulting in their unfortunate demise. While the mortal remains of four climbers were recovered, two climbers, a naval officer and the sherpa, remained missing. The search operation to locate them had to be discontinued after 13 days of intense effort due to onset of foul weather and winter that made the endeavour unsafe.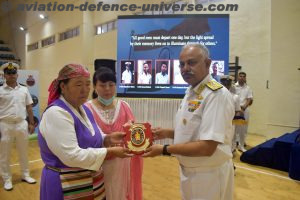 In true testimony to the ethos of the Service, an expedition has been launched on 10 August 2022 to recover the two climbers that were lost in the mountain, reiterating that the Indian Navy does not leave any of its own behind.
On this solemn occasion, a Trishul Memorial was instituted in memory of the fallen and will serve as inspiration to future generations of adventurers in the Indian Navy. The Flag Officer Commanding-in-Chief, Vice Admiral Ajendra Bahadur Singh, and other senior officers paid tribute and homage to the lost personnel by lighting candles at the Memorial.
Family members of the bravehearts were also felicitated during the event. The family of the missing sherpa was, in addition, handed a financial aid package as some measure of relief.
These brave men will be forever remembered fondly.