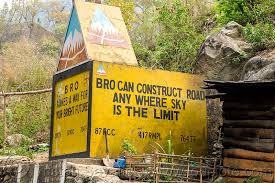 New Delhi. 01 January 2019. Landmark events/achievements pertaining to Border Roads Organisation are as under in 2018.
At present, Border Roads Organisation (BRO) is working on 883 roads of length 27,404.18 kilometres, out of which 352 roads of length 7,991.98 kilometres are under maintenance only and balance roads are under construction/improvement to double lane. BRO is also maintaining seven airfields besides snow clearance of 126 roads (4,800 kms) to ensure connectivity of border regions with rest of the country.
(1) Achievements of work targets: BRO has achieved the following targets of road construction during the period from January 2018 to November 2018.
Item A/U Achievement upto November 20, 2018
Formation Works Kms Eqvt Cl-9 843.40
Surfacing Works Kms Eqvt Cl-9 1,716.24
Resurfacing Work Kms 1,945.37
Permanent Works Lakhs 1,19,248.28
Major Bridges Mtr 2,290.18
Tunnel Lakhs 31,531.28
2. Details of Important works undertaken during this FY are as under:
(a) Connectivity on Op Critical ICBR up to Bidak (Km 16) on Tama Chung-Chung- Maja Road: A significant boost was given for this task last year by launching 200 ft Bailey bridge at Gelensiniak (the first single span bridge over the River Subansiri on October 24, 2017) which provided additional attack points to speed up the pace of work. Accordingly road connectivity to Bidakh established on January 30, 2018.
(b) Launching of 60 ft Bailey Bridge: Launching of 60 feet Bailey bridge at Km 31.36 on road Tama-Chung-Chung-Taksing was completed on January 31, 2018 by air lifting stores weighing almost 40 MT from Limeking, now the road will remain through for traffic even during the monsoon season.
(c) Re-launching of 190 ft TDR: Existing 190' Double Double Bailey bridge (Cl-24) at Gangori Garh at Km 31 on Dharasu-Gangotri road on NH-34 collapsed on April 01, 2018 due to plying of heavy loaded civil vehicles. The alternative diversion was made operational using Hume pipes within 12 hrs and traffic was restored. Now Triple Double Reinforced 190 ft BB of Cl-40 was launched on April 20, 2018.
(d) Inauguration of Kawaranglui Bridge: Construction of Multi Span PSC Box Girder permanent bridge 72.50 m span over river Kawaranglui on road Lawngtlai-Dirtlang-Parva has been completed and inaugurated by Governor of Mizoram Lt Gen (Retd) Nirbhaya Sharma, on February 12, 2018.
(e) Inauguration of Theng Tunnel: To negotiate frequent landslides at Km 86.00 on road Gangtok-Chungthang, a Horse Shoe shaped tunnel of NHDL specification having length 542 m has been completed. This tunnel has been dedicated to the nation by Raksha Rajya Mantri Dr Subhash Bhamre on June 07, 2018.
(f) Inauguration of Damchu-Chukha Road in Bhutan: The Damchu-Chukha Road, 29.20 Km to Assian Highway Standards constructed by BRO, was formally inaugurated by His Excellency Lyonchhen Dasho Tshering Tobgey, Prime Minister, Royal Government of Bhutan on July 18, 2018. New road will reduce the travel time between Phuntsholing –Thimphu by one hour and reduce journey by around 19.5 Km of steep uphill driving.
(g) Inauguration of Hussainiwala Bridge: The four span of temporary bridge on the old Ferozpur-Lahore highway over river Satluj River (Historical Hussainiwala Barrage) connecting Hussainiwala Enclave from Ferozpur has been replaced by constructing a new bridge with load class 70 R at the cost ofRs 238 Lakh. The bridge was dedicated to Nation by Raksha MantriSmt Nirmala Sitharaman on August 12, 2018.Hussainiwala is the place where freedom fighters Bhagat Singh, Rajguru and Sukhdev, who made supreme sacrifices for the motherland, were cremated. A memorial has been built as a mark of respect for these brave hearts, whom the whole nation can never forget.
(h) Approval of Alignment Plan Akhnoor – Poonch Road: Alignment Plan of the road has been approved by MoRT&H vide letter No RW/NH-12037/1214/Misc-New NHs/2014/NH-I/Zone-II dated 05 Sep 2018 Approved final alignment plan with feasibility report submitted by consultant to BRO on September 06, 2018.
(i) Launching of Composite Bailey Bridge: A composite br (BSB 400 ft+140 ft DSRBB & 2X130 ft DSRBBs) across the Lohit River was launched at Meshai/in Lohit Valley of Arunachal on Sep 25, 2018.
(j) Sela tunnels: Administrative Approval for design and construction of two tunnels of length 0.475 kilometre and 1.79 kilometre at Sela Pass along with the approach Roads of length 9.775 Km on B-C-T Road for Rs 687.11 crore has been accorded and further tendering action is under process.
(k) Chardham Projects: Prestigious Chardham Pariyojana Projects have been started. Preparation of DPRs for 18 packages on Chardham Roads through EPC Mode are under process. Out of which BRO has awarded contracts for 8 packages and balance are under progress.
(l) Progress on Indo-China Border Roads (ICBRs): Out of 61 ICBRs of length 3,418 kilometre have been entrusted to BRO, 28 roads have been completed. Work on the balance roads are in different stages of completion. However, out of 3418 kilometre overall completed length of ICBR is 2316.62 kilometre (68 per cent) and connected length is 3144 kilometre (90 per cent). The package wise status of connectivity of ICBRs are as under:
3. Moreover, Border Roads Organisation has taken initiative for updating the data of personnel by launching GREF Abhilekh Application. Lt Gen Harpal Singh, AVSM, VSM, DGBR implemented and launched the Mobile App 'GREF ABHILEKH' which will immensely benefit the 36,000 GREF Personnel serving in remote areas of our country. The Mobile App will provide real time personnel and career management information to all serving GREF Personnel. The App is compatible with all Android / Window / ioS based mobile phone.