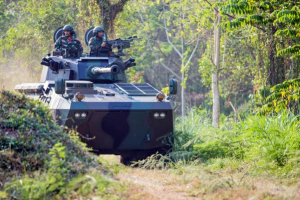 Abu Dhabi. 22 February 2017. PT Pindad and Timoney announced that they have signed a contract to upgrade the Badak 6×6 with a customised Timoney modular driveline, transfer case and steering system.
The Badak is a 6×6 vehicle fitted with a CMI Defence two man turret to provide direct fire support for deployed troops. It has a monocoque hull and is fitted with an independent suspension system.
The vehicle has a novel power pack packaging solution that enables internal space to be maximised and has a special front mounted transfer box inputted to the first axle. This provides the vehicle with greater space to house the turret system. Timoney has designed a bespoke driveline packaging solution to meet this requirement.
"The engineering requirements of the PT Pindad Badak has capitalised on our 50 years' experience of developing mobility solutions," said Shane O'Neill, Chief Executive of Timoney.
"The design brings together our modular approach to meeting customer requirements together with our driveline expertise and we have also designed a new steering system and transfer box to provide PT Pindad with the ultimate solution to meet their mobility requirements," added O'Neill.
Timoney driveline solutions are based on modular designs which can be customised to suit individual vehicle needs. They can be matched with Timoney's transfer cases and steering systems or be part of a complete under the hull mobility solution.