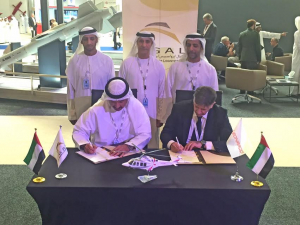 Abu Dhabi, 22 February 2017 . Leonardo announced new achievements in the reinforcement of its presence in the UAE as a key supplier of support and maintenance services through the AgustaWestand Aviation Services LLC joint venture with Abu Dhabi Aviation. The joint venture has recently completed a major upgrade programme for the AgustaWestland AW139 VIP intermediate twin helicopter fleet of the Joint Aviation Command (JAC) in the United Arab Emirates.
The modernization, implemented on time and fully meeting expectations, was performed at the AgustaWestland Aviation Services' facility in Abu Dhabi, located in the vicinity of the International Airport. The upgrades includes a new rescue hoist, interior seats, soundproofing solutions, emergency exit light system and internal communication system. The new soundproofing solution and light systems will further enhance the noise abatement, delivering the unprecedented levels of comfort JAC requires for VIP transport duties. Leonardo also announced the signing of a support services agreement between AgustaWestland Aviation Services LLC and Global Aerospace Logistics LLC (GAL) in the UAE.
The agreement aims at further strengthening the level of support and maintenance services delivered to the United Arab Emirates Armed Forces helicopter fleet. A key supplier of aerospace and defence maintenance and support for the UAE, GAL will now join forces with AgustaWestland Aviation Services to deliver a range of services including spare parts, repairs, training and technical publications for the AgustaWestland AW109 light twin series and AW139 intermediate twin helicopter types, both of which are in service in the UAE for a number of roles.