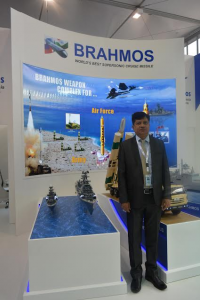 Abu Dhabi. 02 March 2017. Dr. Sudhir Kumar Mishra, CEO & MD, BrahMos Aerospace  in an exclusive interview with Chaitali Bag, Chief of Bureau, Aviation & Defence Universe (ADU) at IDEX –NAVDEX 2017was optimistic about BrahMos creating a Middle East market after its latest announcement that it has requests from seven countries in Asia and the Pacific, Latin America and the Middle East, which already have Su-30s.
ADU.
 What are BrahMos plans for Middle east?
BrahMos.
  We are here in Abu Dhabi  and as you know BrahMos has got orders from Indian Army, Navy and Air Force. So naturally we have to look out to rest of the world and to see as to where we can fit in. So we are here to showcase our capabilities and there are some serious inquiries from different people but I really won't be able to tell you about who all have approached due confidentiality.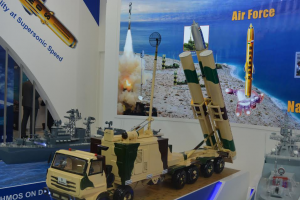 ADU.
 So you are getting a good response?
BrahMos.
 Oh yes, our expectations are met. We came for specific requirement and we are able to find that. Today morning I went to IDEX and I found it very crowded and most of the visitors are casual. They just want to know, take pictures and collect brochures. But in NAVDEX we already knew that the place is going to be slightly away from the main venue and it is in the interest of us.
I would like to tell you that yesterday Deputy president and Prime Minister of UAE visited us. They stayed along with the whole team. He was with Navy Chief, stopped at Brahmos and was here for 5min. 5 mins for Prime Minister of UAE to spend in our place is quite an honour for us. It gets noticed. Yesterday we received Deputy Commander of UAE Navy. He also spend around 10 min with us. So its a good thing. And we feel that only the serious visitors are coming and talking to us. And we have received several other visitors as well and we are happy to be away from the main crowded place.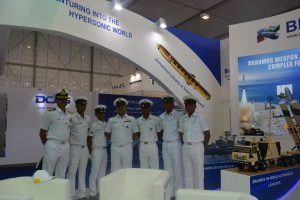 ADU.
  Do you have missiles being deployed by some forces in the region?
BrahMos.
No. actually we have sold missiles to Indian Navy and they have deployed on the front line ships and these front-line ships go around for the cause of prevention of piracy,for goodwill visits and sometime for exchange programs. They keep going. Otherwise there is no strategic deployment.
ADU.
  Do you think you can keep the launch weight less while increasing the speed of the missiles? This can give you an edge over the other competitors.
BrahMos.
We have reduced the weight for the air version from 2.9tonnes to 2.4 tonnes. So this is the first that we have done.
The second is when it comes to speed, speed is not because of the weight, the speed is a factor when you fly at an altitude and range and so many things are combined. And today we are the fastest in the world and we feel that the next would be for hypersonic missile. So we are working on it. May be in future about 3-5years we will be able to come out with the first version. And it has nothing to do with the weight of the missile. Everything is optimized weight, speed, range.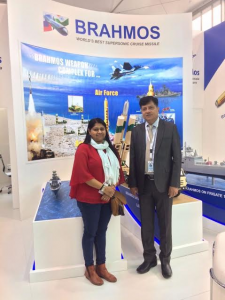 ADU.
  BrahMos Aerospace has already signed  a MOU with Moscow Aviation Institute on the development of hypersonic missiles. What is the current status of this project?
BrahMos.
 That's what I told you , we are trying to come out with the next version of Brahmos. The next version is going to have hypersonic speed MAC 5 and it will come out in 3-5 years time and Moscow Institute is certainly contributing in the development of this missile.
ADU.
    What are your export plans and strategies to make hypersonic missiles successful?
BrahMos.
 When it comes to export then I would like to tell you that most of the export are between two governments. They are government to government. When they are between governments then our role really reduces, we just become the party to execute the contract. So it is for the Government of India and Government of Russia to find out the right partners, right countries where they can sell it and Brahmos Aerospace is ready to meet the production and enhance the production and meet the requirement. So we don't take initiate for export. It is the government who takes decision about it.
ADU.
  Tell us your plans for European Market.
BrahMos.
In Europe we don't have a market we have competitors but they are really not competitors.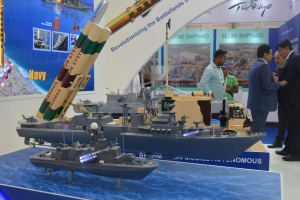 ADU.
   So no plans for expansion for European region….
BrahMos.
E
uropean region no, I don't think so because Europe is already protected under NATO alliance so there is no opportunity for India and Russia joint venture to enter there. And there is good enough market in our country, Middle East, Africa, South Africa, America and Eastern side, Far East.
ADU
: Which products among the displayed are the favorites here?
BrahMos.
Most of the inquires come about the anti-ship missile, they are interested in mounting the missile on the ship. So that's our main business.
ADU.
    So you are positive that UAE shall be a prospective client for the same?