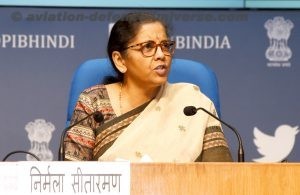 New Delhi. 16 May 2020. Today was the day for defence in the Rupees 20 lakh Crore package announced by Prime Minister Narendra Modi. Finance Minister Nirmala Sitharaman who has also been the Defence Minister earlier  elaborating reiterated the need of enhancing self reliance in defence production and the importance of  'Make in India' .
The government will notify a list of weapons/platforms for ban on import with year wise timelines. Indigenisation of imported spares is another important issue which needs to be addressed and this will help reduce huge defence import bill , the Minister stated.
But the most interesting was the fact that separate budget provisioning for domestic capital procurement will be done. This will really boost Make in India and should be a major step forward for Start Ups in defence.
Dr. Vishwakumara Kayargadde, Co-Founder and COO , of ine of the success stories of start ups in defence , Saankhya Labs said, "We are pleased with the measures announced by the Finance Minister today to provide a boost to domestic manufacturing in the defence sector, which are in line with the country's Make in India mission. By raising the FDI limit in defence manufacturing under the automatic route from 49% to 74% and by putting a ban on the import of certain defence equipment, today's announcements have provided a boost to Indian companies in providing indigenously designed  and manufactured solutions. Another important step in the form of allocating a separate budget for defence procurement will see new investments in the sector and help high-tech companies such as Saankhya Labs an opportunity to develop next-gen indigenously designed, developed and manufactured (IDDM) communications solutions for the armed forces. Additionally, with the Government taking measures towards the indigenization of imported spares, we will see new technology-driven startups emerge in the defence sector and this will provide a major fillip to the sector."
And for all who felt Ordnance Factories were more of a liability than asset, the government to improve autonomy, accountability and efficiency in Ordnance Supplies has announced the corporatisation of Ordnance Factory Board.
Policy Reforms in Defence Production was not left behind. FDI limit in the defence manufacturing under automatic route will be raised from 49% to 74%. Time-bound defence procurement process and faster decision making will be ushered in by setting up of a Project Management Unit (PMU) to support contract management. Government also plans to give a realistic setting of General Staff Qualitative Requirements (GSQRs) of weapons/platforms and overhauling of trial and testing procedures.
Dr. Mukesh Aghi, CEO & President, US- India Strategic Partnership Forum reacted, "today's announcements on structural reforms in sectors such as space, aviation, and defense production etc. are welcome moves to attract foreign investments as India plans its post-covid economic recovery strategy and companies undertake efforts to diversify their supply chains. India continues to occupy a central role among emerging markets as an engine for global growth— per IMF predictions, India could still  top 7% in the next fiscal year, provided the pandemic is controlled and certain monetary and fiscal policies are in place. These announcements are an essential step to ensuring India remains on track as a favored investment destination. Streamlining of procedures and ramping up private investments in social infrastructure sectors send an important signal to foreign investors on India's serious efforts to improve its ease of doing business."
"We applaud the announcement today that raises FDI in defense production pertaining to state of the art technologies from 49% to 74%. Thus far, FDI in the defense sector has been limited— a focus on time bound procurement processes will help to accelerate investment in this sector and help US OEMs develop a defense industrial ecosystem in the country. US  companies are capable of bringing in state of the art technologies to India and help India grow its defense production capabilities, especially in sectors such as fighter aircrafts, surveillance systems, night fighting enablers, among others. This new initiative will help in progressive indigenization of big platforms, like the ones mentioned in the SP chapter and other smaller ones being imported by India," he added.
The coming days should  be able to give a larger picture and implementation plans.