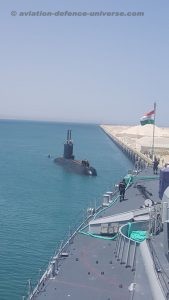 New Delhi. 20 September 2017. Two Indian Naval Ships, a  submarine  and two Long Range Maritime Reconnaissance Aircraft of the Western Naval Command are presently on deployment to the Western Arabian Sea and southern Indian Ocean.
Indian Naval Ship Mumbai and submarine Shishumar entered Duqm, Oman today as part of this deployment to the Western Arabian Sea, after conducting a series of exercises enroute. An Indian naval submarine is visiting a foreign port after a long gap. The Naval units are on a month long deployment with the aim of enhancing surveillance and cooperation with the Arabian Sea rim nations. Another ship, INS Kochi which is also a part of this deployment, is proceeding to the Southern Indian Ocean with a similar aim.
The Western Naval Command, which exercises operational control of the naval units in this theatre, has been actively involved in enhancing three-dimensional surveillance efforts by Indian Naval units for strengthening regional Maritime security cooperation with littoral states.