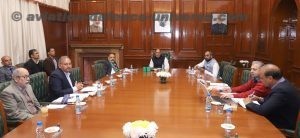 New Delhi. 17 January 2018. The Indian Cyber Crime Coordination Centre (I4C) and the Cyber Police Force will be set up under the newly created Cyber & Information Security (CIS) Division of the Union Ministry of Home Affairs. This was disclosed at a meeting chaired by the Union Home Minister Shri Rajnath Singh here today to discuss this year's Action Plan of the CIS Division, created under the MHA on November 10, 2017.
The CIS Division will have four Wings, namely Security Clearance, Cyber Crime Prevention, Cyber Security and Information Security Wings each headed by an Under Secretary level Officer. It is also proposed to appoint the Chief Information Security Officer (CISO) and Deputy CISO. An online portal for preparing, follow up and issue of advisory on financial fraud related matters is also in the offing.
The Home Minister expressed concern over the rising incidents of sharing pornography over the internet. Shri Rajnath Singh directed for an effective mechanism to strictly monitor cyber space and block website flouting India's laws, especially child porn.
Reviewing the Police-1 Division, the Union Home Minister was informed that a website has been created "ips.gov.in" containing relevant information for IPS Officers. The process of Annual Performance Appraisal Report (APAR), filing of Immovable Property Returns (IPRs) and updation of Executive Record (ER) sheets has been turned online.