Organises subordinate officers conclave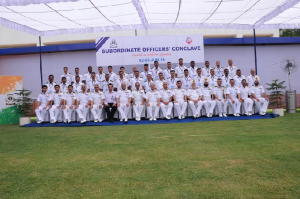 New Delhi. 02 June 2016.
It is a maiden effort to bring all levels into the decision making in Indian Coast Guard. A Subordinate Officers conclave is being conducted at the Coast Guard Headquarters on 02-03 Jun 16, in consonance with the vision of the  Prime Minister on adoption of a collaborative approach towards decision making in the government departments. 
The event was inaugurated by Director General Rajendra Singh, PTM, TM, Director General Indian Coast Guard.  Speaking on the occasion, the Director General Indian Coast Guard said that the aim of the event is to involve the"Boots On The Ground" in the decision making process.  Complementing the efforts of the participants he promised that the ideas put forth would be analysed and considered for incorporation in service.
The event is a first of its kind wherein the ideas, thought process and delivery of the presentation is being  done by the SOs.  The conduct of the conclave will not only broaden the horizon of the middle level management of the service but will  also give them the extra boost of confidence of delivering a presentation in front of senior officers.  All the five ICG regions are being represented by teams of consisting of 5 subordinate officers each.
Such events gather importance as the SO's play a very important role in the service.  Not only do they act as a bridge between the other ranks and officers, but they are also empowered by the Government under various acts like the Maritime Zones of India (MZI) act 1981, The Customs Act 1982 and the Narcotic Drug and Psychotropic Substances (NDPS) act 1985 .  It is of paramount importance that the experience of these highly professional personnel are explored and effectively utilized for the betterment of the service.