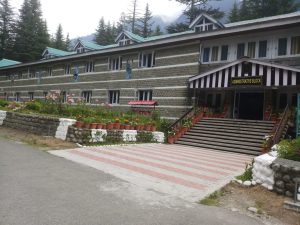 To Organize First Asia Cup For White Water Rafting in 2020
By Brig. Vijay Atray
Manali . 30 July 2019. In Manali – the Dev Bhumi Himachal Pradesh – Western Himalayan Mountaineering Institute was set up on 16 th September 1961 under the dynamic leadership of our Prime Minister Pt Jawahar Lal Nehru. In the year 2008 Himachal Pradesh Govt renamed it as Atal Bihari Vajpayee Institute of Mountaineering and Allied Sports ( ABVIMAS ) .
ABVIMAS offers training in adventure sports of mountaineering, rock climbing, skiing, water sports , outboard adventures , search & rescue etc. The Institute runs the following courses whose duration varies from 3 to 28 days :–.
Basic & Advance Mountaineering Course
Basic to Advance Skiing Course
Basic to Advance Water Sports Courses in River Rafting , White Water Rafting & Kayaking
Special Course in Sailing , Kayaking, Canoeing, Swimming & Motor Boat Driving
Search & Rescue Course
Mountain Guide Course
Rock Climbing Course
Adventure Course
Method of Instruction ( Mountaineering & Skiing ) Course
Wind Surfing Course
In addition to these courses the Institute takes on customized expeditions in Mountain Climbing, High Altitude Trekking, Climb cum Skiing . Biking, Cycling , Rafting & Kayaking .

Since every discipline requires special terrain , climate , altitude & facilities the Institute has established nine sub centres at Mcleodganj – for Mountaineering, Pong Dam – for Water Sports, Solang – for Skiing, Adventure Sports at Hatkoti, High Altitude Trekking & Skiing at Narkanda, River Rafting at Pirdi, Water Sports at Bilaspur & Mountaineering at Jispa & Bharmour.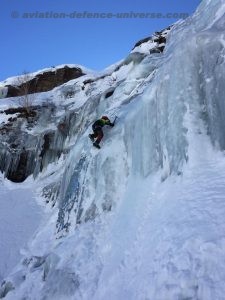 All this is controlled & directed by its Headquarter at Manali .It has the distinction of being the second oldest Mountaineering Institutes of our country & largest adventure training institutes of the world ; the other two being Nehru Institute of Mountaineering ( NIM ) , Uttarkashi & Himalayan Institute of Mountaineering (HIM ), Darjeeling.
Since its inception, the institute has a record of training 1, 85,000 young men & women from all over the world at Manali & its nine sub centres.Various Directors of the Institute viz Col Prem Chand , Col HS Chauhan & Shri Jagat Ram Thakur have contributed by their achievements & leadership to bring the Institute to such height. Many instructors are those who scaled Mt. Everest viz Sh Rajeev Kumar Sharma,Sh Baldev Singh Kanwar , Smt Radha Devi, Smt Dicky Dolma , Smt Deepu Sharma. Lt Surgeon Vikram Bhanu , an alunini of ABVIMAS was the first Indian doctor to scale the Mt Everest in 2004.The Institute has planned & executed successful expeditions to Mt Leo Purgyal ( 6791 mtrs ) in 2011, to Mt Cheema( 6105 mtrs ) in 2017 , Mt Lady of Keylong ( 6061 mtrs ) & River Rafting Expedtion from Manali to Aut in 2017.The record is impressive !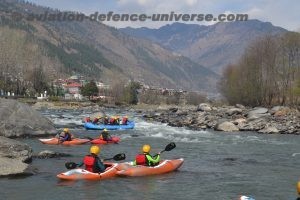 It was unfortunate that for the last eleven years the Institute didn't have a full time Director. In March 2019 Colonel Neeraj Rana an Armoured Corps officer who is is an accomplished mountaineer was appointed as the Director of ABVIMAS. A word about his past career — having excelled in all adventure courses Col Rana was appointed the Vice Principal of NIM & later Principal of HMI. He has 25 peaks to his credit of which he led on 20 occasions , which include Kanchenjunga 8586 mtrs , Makalu 8463 mtrs and Mt Everest 8850 mtrs.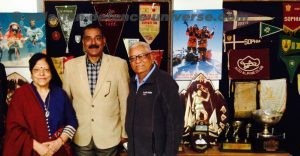 Col Rana is a versatile person with several interests ; to name a few , avid micro-light flyer with more than 160 hours flying , specialized in Para motors and Paragliding and have more than 1000 hours of flying . He is the only person in the World to have flown on a Para glider from a height of 6850 meters from the fifth highest peak in the world Mt Makalu and landed at 5700 meters, which is a world record and the same was achieved without supplementary Oxygen.
He trained boys of Lawrence School who were the first from a school to climb Mt Everest under his able leadership. The list of his interests and achievements is endless. For such rare achievements he was decorated by the Chief of the Army Staff , National Geographic Channel & Lawrence School ,to name a few.
When asked about his future plans Col Rana stated ' the future plans of AVBIMAS are to open water adventure sports at Tattapani and Largee Dam , Paragliding courses at Solang valley and subsequently a Paragliding school is on the anvil ' .Col Rana was happy to mention that ' the First Asia Cup for white water rafting is planned for 2020 for which the Indian team would commence its training after this monsoon ' .
ABVIMAS has got in Col Rana a Director who will steer the Institute in the right direction who would bring several laurels to the very fine Institute – a glittering pearl in the necklace of revered Devbhumi.