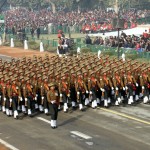 New Delhi. 28 January, 2016.  The Assam Regiment has been adjudged the Best Marching Contingent amongst the three Services in the Republic Day. The contingent comprising of 149 soldiers from the seven states of Northeast India, was led by Lieutenant Aditya Bisht.  The impressive victory comes in the beginning of the Platinum Jubilee year of the Assam Regiment.
The Assam Regiment was raised on 15 Jun 1941 and draws its troops from the seven North Eastern states.  The Regiments insignia, Unihorned Rhinoceros reflects toughness, aggressiveness, determination and martial qualities. Raised through the Japanese invasion during the Second World War in 1941, this gallant Regiment has won six Battle Honours and Theatre Honour 'Burma' in the first three years of its raising.  The Fifth Battalion of the Regiment also has the unique distinction of being the only Infantry battalion to have been awarded Battle Honour in Chhamb Sector during the 1971 Indo-Pak  war.
Since its raising, the Regiment has been awarded seven Battle Honours, three Theatre Honours, Nine Chief of the Army Staff Unit Citations, 23 Army Commanders Unit Citations, Two United Nations Citations and numerous other gallantry awards.