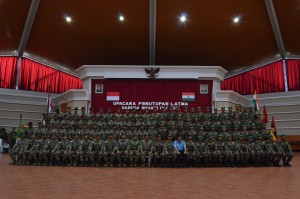 By Col NB Saxena
 New Delhi. 23 Mar 2016. The Indo – Indonesia Joint Training Exercise GARUDA SHAKTI IV/ 2016 concluded today. The fourteen day exercise was  conducted at the Military Training Area, Magelang, Indonesia with the aim to build and promote positive relations between the armies of India and Indonesia. The exercise contributed towards enhancing  the ability of both the armies to undertake joint tactical level operations in Counter Insurgency environment under the United Nations Charter. The Indian contingent comprised of platoon sized troops of an Infantry Battalion under Southern Command theatre and the Indonesian Army comprised of 503 Airborne Battalion of the TNI -AD.
The joint exercise commenced with an opening ceremony on 11 March 2016 and was presided over by senior officers of the Indian and Indonesian Army. Post the ceremony the Indian Army troops were oriented to the terrain and tactical aspects of training. Training comprised of tactical drills wherein the troops of both armies trained jointly sharing each other's experience in Counter Insurgency operations.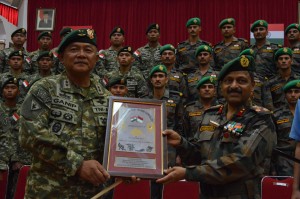 The cross training phase was meshed with games and sports to enhance interaction and develop camaraderie. The training culminated in a three day joint training exercise and lessons drawn were consolidated for incorporation in the next edition. The exercise finally concluded with the closing ceremony wherein outstanding performers were awarded and cultural programmes showcasing the rich culture and heritage of both the countries were displayed.
The conduct of the joint training exercise ensured greater cooperation and coordination in the employability of a joint platoon group of Indian and Indonesian Army for Counter Insurgency operations in an International environment. The exercise is also a milestone in ensuring the cordial relations between the two great nations in Asia.