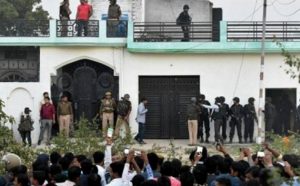 • Lucknow encounter affirms that
New Delhi. 15 March 2017. On March 8 the valiant commandos of Uttar Pradesh Anti Terror Squad (UP-ATS) killed Mohammad Saifullah an Islamic State Khorasan module terrorist in a 10 hour encounter in densely populated Haji colony in Thakurganj area of Lucknow. UP-ATS accomplished this operation on the basis of information received from Central intelligence agencies without any loss of life or injury.
Shivraj Singh Chauhan, Chief Minister of Madhya Pradesh asserted that the bomb blast in Bhopal-Ujjain passenger train on March 7, in which about ten persons were injured, was the handiwork of Islamic State (IS). It was also claimed that IS terrorists after planting low intensity pipe bomb in the train also sent the photographs of the planted bomb to their handler in Syria.
The terrorists in a pipe bomb used low intensity explosives for explosion in the train. Intelligence sources claim that it was a trial to ascertain the amount of damage the low intensity bomb can cause and also to know the reaction of security agencies.The security agencies of both the states reacted promptly and few IS terrorists were apprehended while Saifullah was killed in the encounter causing a big blow to IS activities in India.
Few IS operatives who were planning major terrorist activities in the country were arrested while others had gone underground. It is expected that the arrested IS terrorists would reveal names and addresses of their accomplices. Although the bomb blast in passenger train at Jabri railway station in Madhya Pradesh could not damage much but it is significant as the blast was the first bomb explosion carried out by Islamic State in India.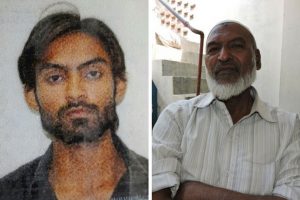 UP-ATS conducted a restrained operation in a professional manner and made efforts so that Saifullah either surrenders or caught alive as the security agencies could have gathered lot of valuable information during his interrogation. The ATS issued several warnings; the brother of Saifullah also requested him to surrender but he continued with intermittent firings. The ATS team first put micro tube camera inside the room then used Chilli bombs as well as tear gas shells but Saifullah instead of surrendering told that he wanted to achieve "Shahadat". It indicates that Saifullah was totally radicalized and wanted to go to Jannat (Paradise).
The ATS commandos recovered an Islamic State flag, eight pistols, 650 rounds of live ammunition, material to prepare improvised explosive devices (IEDs), 1.5 K.Gs of gun powder, knives, currency notes, gold, passports and SIM cards, one railway time table along with the dead body of Saifullah. He was residing in a rented accommodation with two other accomplishes.
The security agencies claim that Saifullah was radicalized by reading literature from internet and was in touch of several young Muslim youths of eastern U.P. as well as youths of Kanpur and Lucknow. He also established Khurasan module in few cities of U.P.
The ATS claimed that Saifullah and his associates were planning to carry out some major terrorist activities in U.P. The security agencies in U.P. and M.P. arrested six IS terrorists and efforts are afoot to arrest more IS workers/sympathizers especially two roommates of the slain terrorist. The six arrested suspected terrorists were self radicalized through internet as all of them were active in internet as well as in social media. They were in constant touch of their IS handler through internet and never went out of the country.
The intelligence sources report that Shafi Amrar and his elder brother Sultan Amrar both of Indian origin and previously associated with terrorist outfit Indian Mujahideen escaped to Syria and joined IS. Shafi proclaimed himself as Chief of Junud-Al-Khalifa-e-Hind (Soldiers of Indian Caliphate) and his brother became the principal recruiter for IS not only in India but in the region including Bangladesh. Amrar is already killed in a drone attack in Syria but the information that Shafi is also killed needs verification.
The analysts claim that IS has intensified its recruitment drive in India through internet and social media. It constituted committees in various states especially in Gujarat, Utter Pradesh, Karnataka, Maharashtra, Madhya Pradesh, West Bengal, Telangana etc. These committees are based on Sharia law as establishment of caliphate is the ultimate aim of IS. Daesh is also in constant touch of diverse terrorist organisations of the region including Jamaat-ul-Mujahideen of Bangladesh and Lashkar-e-Toiba of Pakistan.
The arrest of 14 Indians by National Investigation Agency sometimes back from different places in India indicates the increasing influence of Daesh in the country which is worrisome. The terrorist outfit has appointed Muttabir Mushtaq Sheikh as chief of Junud-Al-Khalifa-e-Hind (JKH) and also distributed work such as collection and distribution of funds, procurement of armaments and recruitment of new cadres among various office-bearers working for the outfit. The NIA also recovered large quantity of electronic equipments from the arrested persons.
Two brothers were also arrested sometime back from Gujarat who were influenced from the principles of IS and constituted a 10 members module in two important cities of Gujarat. JKH workers were also instructed to burn vehicles and disturb law and order by infiltrating in the demonstration or any type of movement especially in students movement or unrest in Universities.
Former Indian Air Force personnel Ghaus Mohammed Khan who was resident of Kanpur was also arrested by UP-ATS as he was the main suspect of IS module in India and was behind the Bhopal-Ujjan train blast. Telangana police kept IS cadres under surveillance and after the blast in Bhopal-Ujjan train, Telangana police shared the intelligence and few were arrested while Saifullah was exterminated. U.P. Police also arrested two persons namely Faizan and Imran who were the accomplices of Saifullah.
The IS is radicalising Muslim youths through internet and plan to use them for lone wolf attacks in crowded places in India. The handler of these lone wolf instructs them through internet and train these IS cadres in making improvised explosive devices (IED), recce the sensitive areas and planting the bombs so that maximum damage can be done. It is very difficult to catch lone wolf before the terrorist attack as he works more or less alone and he does not reveal his secrets to any other person.
Several young Muslims who are unemployed, partially educated, deprived and alienated from the society becomes the victim of IS as its ideology preaches about the establishment of Islamic regime all over the world after subjugating and converting persons of other religions. The IS handlers also paint a rosy picture of heaven which the Jihadists would sure to go if they die in holy war.
There are several cases when disgruntled Indian youths from India as well as from Middle Eastern countries influenced by the ideology of Daesh left the country under some false pretext including pilgrimage and joined IS. When these radicalized youths return to India they misguide several other young persons. The days of IS are numbered in Syria and Iraq but the ideology of this terrorist outfit will haunt the world for longtime. IS has already put lot of literature on the internet and the misguided youths would continue to be radicalized by the literature.
The IS desires to reinstate the lost Islamic glory and Daesh gave names to different regions of the world and Saifullah and his co-conspirators wanted to establish Islamic Caliphate in Khorasan region which included Afghanistan, Pakistan, India, Bangladesh and Iran. However IS has not much support in the region, even in Pakistan and Afghanistan where Islamic extremism is ubiquitous, there are several terrorist outfits oppose the Salafi kind of Islam imposed by IS.
IS is not getting much success in India and Bangladesh also as Muslims of both these countries are not extremists and barring few astray cases here and there IS is not able to achieve much success. Nonetheless this situation might change and uneducated and depressed youths as well as educated but fanatic Muslims may join terrorist organisations hence Indian security forces especially intelligence organisations should collect more humint as well as technical intelligence so that the recruitment drive of IS is proscribed.
The political parties as well as Muslim leaders should not issue statements in favour of terrorists or should not raise doubts about the encounters. In case of killing of Saifullah where his father who as a patriotic Indian accepted that his son was misguided and refused to accept the dead body of his son but even then one leader raised the doubt about the encounter which is deplorable.
Indian leaders of all the political parties and religious faith should issue statements and make sincere efforts so that the isolation of Muslim community reduces. The students of all religions must study together. Unfortunately Madrassas inculcate the culture of segregation which is neither good for Muslim students nor beneficial for the secular country like India.
Indian security forces are already facing Inter Services Intelligence (ISI) sponsored demonstrations, stone pelting crowds of Kashmiris, whenever the security forces kill a terrorist in the encounter. Political leaders must refrain from false criticism and should support the security forces that are doing commendable job so that Kashmir like situation is not created in other parts of the country.
(Jai Kumar Verma is a Delhi-based strategic analyst and a retired R&AW officer. The views in the article are solely the author's. He can be contacted at editor.adu@gmail.com)