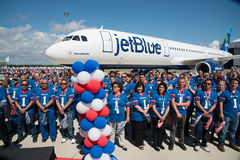 Mobile, USA. 25 APRIL 2016. In what was a first of sorts , Airbus marked the official handover of its first A320 Family aircraft produced at the Airbus U.S. Manufacturing Facility in Mobile, Alabama  to U.S.-based JetBlue
It was just over three years since Airbus officially broke ground at the Mobile Aeroplex at Brookley site in April 2013. Final assembly operations commenced in the summer of 2015, with the no. 1 aircraft performing its maiden flight last month. As the newest of four locations producing A320 Family jetliners, Mobile brings together the skills and expertise of Airbus' other modern final assembly lines in Toulouse, France; Hamburg, Germany; and Tianjin, China.
The delivery ceremony was attended by senior management from JetBlue and Airbus, along with local officials from the U.S. Gulf Coast region where Mobile is located. The Airbus U.S. Manufacturing Facility was decorated in the distinctive American red, white and blue colour scheme, with the event's theme adding the flavour of America's team sport of football.
"What you see here is not just an aircraft," said Daryl Taylor, Vice President and General Manager of the Airbus U.S. Manufacturing Facility. "It's a symbol of what can happen when a team works together to create something special. And what you see beneath those wings – the people – is Airbus at its best."
"It's been an honour to be here with Airbus throughout the process, from the announcement of the Mobile facility to its inauguration," said JetBlue's CEO Robin Hayes. "Now, BluesMobile is part of Airbus' illustrious history. We want to honour the skill, dedication and craftsmanship that Airbus is recognised for around the globe."
Currently, nine other A320 Family aircraft are in production at the facility in addition to the A321 delivered today to JetBlue. The Airbus U.S. Manufacturing Facility is expected to produce four aircraft per month by the end of 2017.