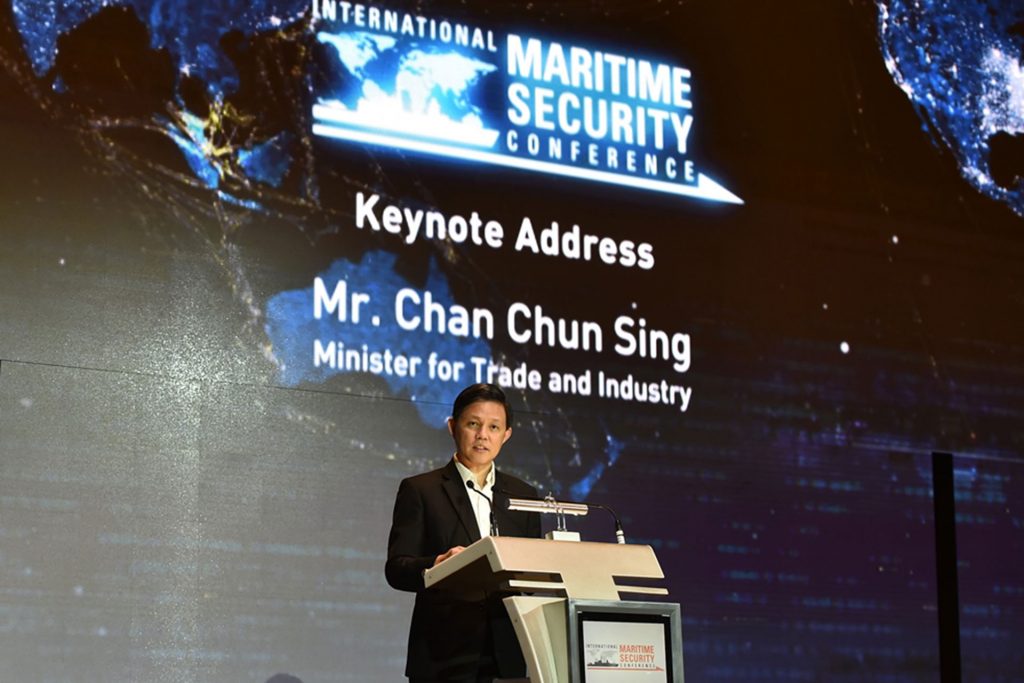 Singapore. 14 May 2019. Singapore's Minister for Trade and Industry Chan Chun Sing delivered the keynote address at the opening dinner of the 6th International Maritime Security Conference (IMSC) at JW Marriott Hotel this evening. Themed "Safe and Secure Seas: Mutual Security in our Maritime Commons", this year's IMSC will see over 400 international participants from navies and coast guards, maritime industries, academia, and think-tanks from more than 40 countries.
In his address, Chan emphasised the need for all parties to work together to mount effective responses against the complex nature of maritime security challenges today. He said, "All this starts with building trust at every level. We share the seas and there is space for us to respond as a community; to protect our global commons together, instead of just our own territorial limits." He shared that while having a maritime rules-based order has allowed countries to come together to cooperate, it needs to be strengthened to provide a strong foundation for the global economy.
Mr Chan also acknowledged Singapore's efforts in promoting practical cooperation, operational mechanisms to pre-empt miscalculations at sea, and open and inclusive dialogue. He said, "These three approaches are not mutually exclusive, but are complementary. Practical cooperation and operational mechanisms build foundational levels of trust, which then promote open dialogue at the strategic level. When this happens, we can unlock more opportunities for further collaboration and eventually put in place real and effective solutions to our maritime security challenges."
The IMSC will feature plenaries on the importance of a rules-based maritime order, maintaining peace in our maritime commons, as well as ways to strengthen cooperation and engender trust. Navy chiefs from Australia, Denmark, Germany, Japan, New Zealand, the Philippines, Singapore and the United States will be amongst the speakers at the conference plenaries tomorrow.
Co-organised by the RSN and the S. Rajaratnam School of International Studies, the IMSC is held in conjunction with the International Maritime Defence Exhibition and Conference (IMDEX) Asia 2019. Established in 2009, the IMSC brings together navy chiefs, policy makers, strategic thinkers and maritime stakeholders to exchange ideas and discuss ways to enhance and foster mutual security in our maritime commons.