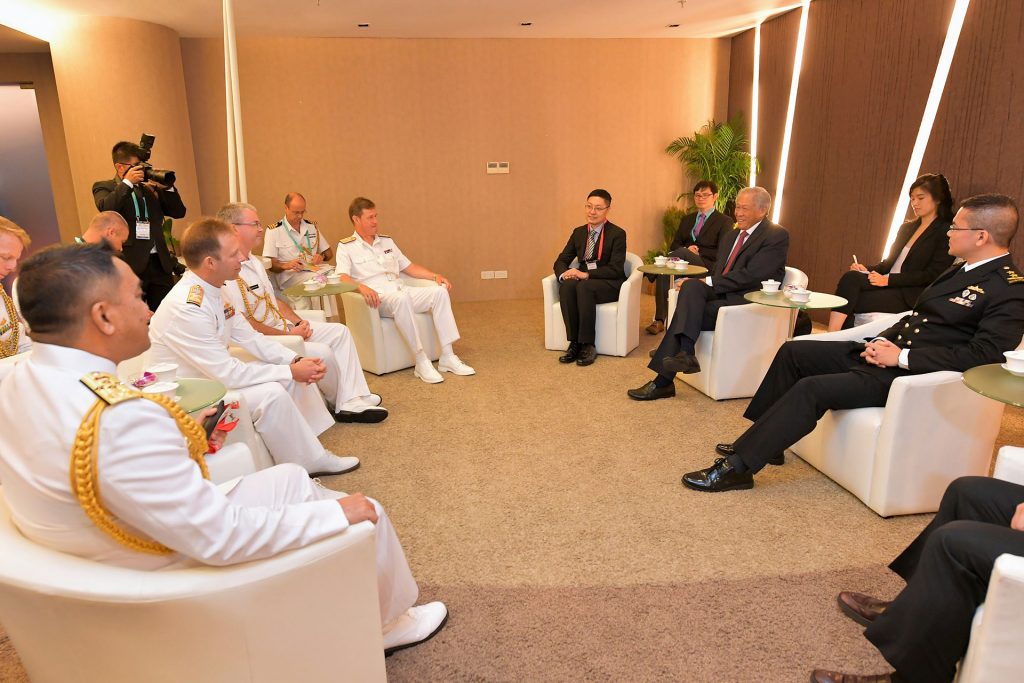 Singapore. 14 May 2019. Naval Chiefs of the Five Power Defence Arrangements (FPDA) member-nations, Chief of the Royal Australian Navy Vice-Admiral (VADM) Michael Noonan, Chief of the Royal Malaysian Navy Admiral (ADM) Datuk Mohd Reza bin Mohd Sany, Chief of the Royal New Zealand Navy Rear-Admiral (RADM) David Proctor, Chief of the Republic of Singapore Navy RADM Lew Chuen Hong, as well as Commander United Kingdom Maritime Forces and Rear-Admiral Surface Ships RADM Andrew Burns, jointly called on Minister for Defence Dr Ng Eng Hen at the Changi Exhibition Centre today. The joint call was conducted on the sidelines of the 12th International Maritime Defence Exhibition and Conference (IMDEX) Asia.
The FPDA Naval Chiefs reaffirmed their commitment to the FPDA, and the important role that the FPDA continues to play in the regional security architecture. They also exchanged views with Dr Ng on strengthening interoperability, increasing the professional value of the FPDA exercises, and ensuring the FPDA's relevance.
Established in 1971, the FPDA is a constructive, transparent and peaceful arrangement that plays an important role in the regional security architecture. Over the years, the FPDA has evolved to remain relevant to the spectrum of contemporary security challenges, including building capacity in the areas of maritime security, counter-terrorism, Humanitarian Assistance and Disaster Relief and other non-traditional transboundary threats. The regular conduct of FPDA exercises allows member-nations to share professional knowledge, build interoperability and enhance regional cooperation.