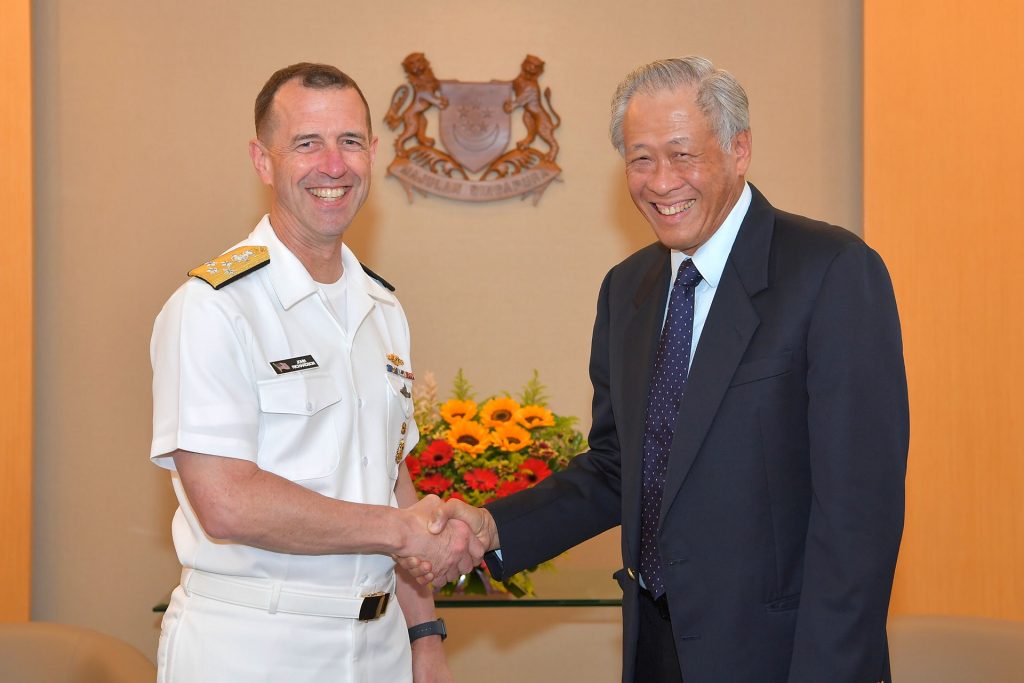 Singapore. 14 May 2019. The United States' (US) Chief of Naval Operations Admiral (ADM) John M. Richardson called on Minister for Defence Dr Ng Eng Hen at the Ministry of Defence (MINDEF) this afternoon. During the meeting, Dr Ng and ADM Richardson reaffirmed the strong partnership between the Singapore and US navies. Both sides also discussed ways to strengthen defence cooperation, and the importance of the US' continued engagement of the region.
ADM Richardson, who is in Singapore from 14 to 15 May to attend the 12th International Maritime Defence Exhibition and Conference Asia, will speak at the 6th International Maritime Security Conference held at Changi Exhibition Centre tomorrow. ADM Richardson will also call on Chief of Defence Force Lieutenant-General Melvyn Ong.
ADM Richardson's visit underscores the excellent and long-standing defence relations between Singapore and the US. Both navies interact regularly through a wide range of activities including visits, bilateral and multilateral exercises, and professional exchanges. These interactions have strengthened the interoperability and cooperation between both navies, and fostered strong friendships between naval personnel from both countries.