Inaugurates IMDEX Asia 2019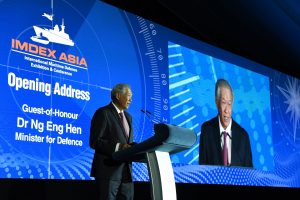 Singapore. 14 May 2019. Singapore's Minister for Defence Dr Ng Eng Hen opened the 12th International Maritime Defence Exhibition and Conference (IMDEX) Asia at the Changi Exhibition Centre this morning.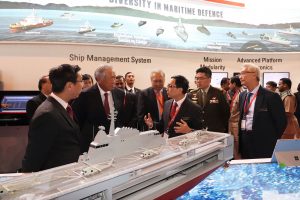 Speaking at the opening ceremony, Dr Ng stressed the importance of consensus for common rules for safe and secure seas and the peace and prosperity of all nations. He said, "Today, global connectivity has increased leaps and bounds through air, land, sea and the internet. But the seas still hold powerful forces that can continue to shape the destinies of our countries, individually or collectively. Indeed, as global commerce has increased, so too has the significance of sea lines of communication as global arteries for trade."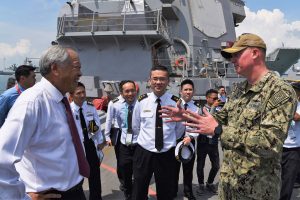 He added that "maritime history teaches us that whenever and wherever there is conflict on the seas, surrounding countries and their common folk invariably suffer…and because so much depends on the seas, we need a strong consensus from all countries for common rules for the seas and their use." Dr Ng also underscored the need for navies to work collectively to address evolving maritime security threats, adding that collaboration and cooperation through initiatives like IMDEX Asia are key for militaries to build confidence and trust.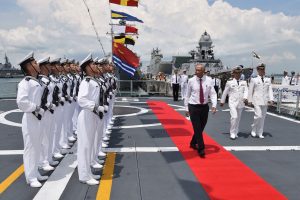 In attendance at the opening ceremony were 26 defence and navy chiefs, vice navy chiefs, and directors-general of coast guards, as well as participants from more than 40 nations. More than 230 exhibitors from around the world are participating in this year's exhibition, while 25 warships from 15 countries are taking part in this year's IMDEX Asia Warships Display.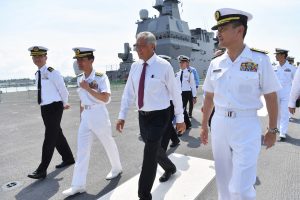 After the opening ceremony, Dr Ng visited defence technology and shipbuilding exhibitors, before viewing the foreign warships at RSS Singapura – Changi Naval Base. Dr Ng visited USS William P. Lawrence from the United States Navy, Xiangtan from the People's Liberation Army Navy, and JS Izumo from the Japan Maritime Self-Defense Force.
In conjunction with IMDEX Asia 2019, the Republic of Singapore Navy (RSN) is co-organising the 6th International Maritime Security Conference with the S. Rajaratnam School of International Studies from 14 to 15 May 2019. The RSN is also hosting the Maritime Information-Sharing Exercise during this period. These exchanges provide excellent opportunities for navies and maritime agencies to exchange views, strengthen friendships, and forge practical cooperation.