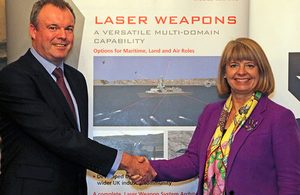 London. 08 January 2016. UK's Ministry of Defence, Defence Science and Technology Laboratory and Harriett Baldwin MP recently informed that a £30m contract Has been awarded to MBDA led UK Dragonfire consortium to produce Laser Directed Energy Weapon (LDEW) Capability Demonstrator.
The project will assess innovative LDEW technologies and approaches, culminating in a demonstration of the system in 2019. The contract will assess how the system can pick up and track targets at various ranges and in varied weather conditions over land and water, to allow precision use.
The project will inform decisions on the future of the programme and help the MOD's Defence Science and Technology Laboratory (Dstl) establish a road map to an in-service capability. If it is successful, the first laser weapons would come into service in the mid-2020s.
Minister for Defence Procurement, Harriet Baldwin said, " the UK has long enjoyed a reputation as a world leader in innovation and it is truly ground-breaking projects like the Laser Directed Energy Weapon which will keep this country ahead of the curve.The Defence Innovation Initiative and £800M Defence Innovation Fund aim to encourage imagination, ingenuity and entrepreneurship, in pursuit of maintaining a military advantage in the future.With a rising Defence budget, and a £178 billion equipment plan, our commitment to innovation will deliver a safer and more prosperous Britain."
The UK Dragonfire consortium includes partners from across the UK with international reputations in this area including MDBA, QinetiQ, Leonardo, GKN, Arke, BAE Systems and Marshall ADG
"The MOD's investment in such innovative solutions demonstrates how the Government's £178 billion equipment plan, supported by a rising Defence budget, is ensuring our Armed Forces have the most effective and innovative capability available. The Innovation Initiative aims to strengthen the Defence partnerships which make such projects possible, keeping the UK safe and secure in a complex world, " she added.