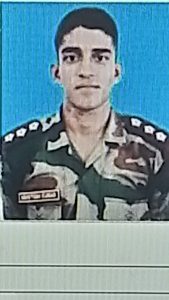 Name : Ashutosh Kumar
Posthumous : YES
Award Recommended: Shaurya Chakra
Year : 2021
Service No : IC-83765X
Rank : Captain
Unit : 18th Battalion The Madras Regiment
Father's Name : Shri. Rabindra Bharti
Mother's Name : Smt. Gita Devi
Citation
08 November 2020
Captain Ashutosh Kumar was performing the duties of Ghatak Platoon Commander deployed at a post close to line of control in Jammu and Kashmir.
On 08 November 2020, on receipt of information of likely escape of terrorists Late Captain Ashutosh proceeded to establish stops along the likely routes of escape. At 0630 hours cut off group led by Late Capt Ashutosh observed move of escaping terrorists.
The officer displaying raw courage continued to maintain contact and closed in with the terrorists. While closing in, the scout of the group sustained a bullet injury. Sensing grave danger to own troops and seeing the terrorist escape, officer with utter disregard to his personal safety and displaying grit of steel while being completely exposed to terrorist fire, with complete calmness took an aimed shot and brought down the terrorist at a very close range. In the ensuring gunfire he sustained a gunshot wound and succumbed to injuries on the spot.
For displaying indomitable courage and professional acumen of highest order in saving his fellow soldier's life and eliminating hardcore terrorist with utter disregard to his own safety, Captain Ashutosh Kumar is recommended for the award of "SHAURYA CHAKRA" (POSTHUMOUS).