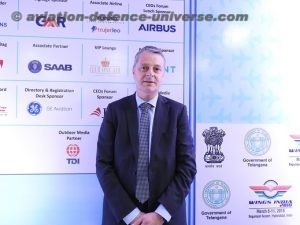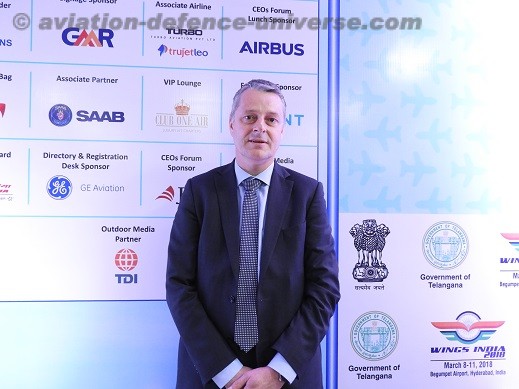 By Rohit Ratan Saxena
Hyderabad. 10 March 2018. More than 70% backlog order share; more than 60% of in-service fleet , 8.1% annual growth in passenger traffic (global average 4.4%) India is set to become the world's third largest aviation market by 2019/20 and the statement that Airbus will be delivering one plane on an average per week to airlines in India over the next 10 years, from  Airbus Commercial Aircraft, India President Srinivasan Dwarakanath at Wings India 2018, convinces that Airbus is not only bullish but also confident that India will be a market it will cherish for times to come.
India will require 1,750 new passenger and cargo aircraft over the next 20 years to meet an exponential rise in both passenger and freight traffic, according to Airbus' latest India Market Forecast. To help meet this growth, India will need 1,320 new single-aisle aircraft and 430 widebody aircraft valued at US$255 billion.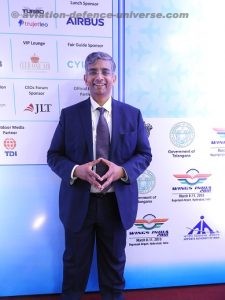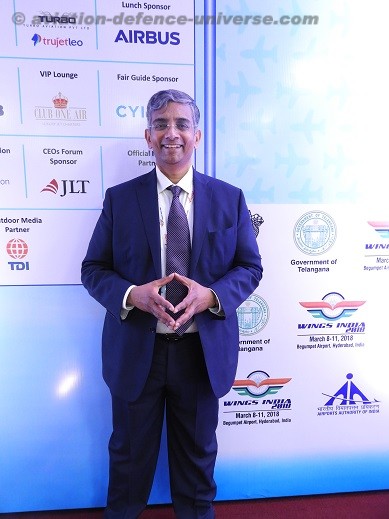 While much of the air traffic growth is expected to be driven by the fast expanding economy, rising wealth and urbanisation, ambitious government-backed regional connectivity programmes are also set to enhance demand for air travel. By 2036, Indians will each make four times as many flights as today. As a result, traffic serving the Indian market is forecast to grow 8.1 percent per year over the next 20 years, almost twice as fast as the world average of 4.4 percent.
Joost Van Der Heijden, Vice-President, Marketing, Asia and North America, said that India would need will include 1320 single aisle and 430 wide bodied aircraft valued at $255 billion. "By 2019-20, India will become the third-largest aviation market in the world. Airbus now holds the lion's share of the Indian market, with 60 per cent of in-service fleet and 70 per cent of the order backlog, " he stated.
"Make in India is at the heart of the company's strategy and Airbus sourcing volume has grown 16 times over the past 10 years and is currently at more than USD 550 million annually. Every commercial Airbus aircraft flying in the world has some Make-in-India in it," said Dwarka.
To meet this growth, India will require 24,000 new pilots and maintenance engineers. Airbus secures 6,000 jobs including 1,500 engineers in India. Srinivasan informed that the construction work of Airbus' Flight Training Centre in Delhi will start next month where 800 pilots will be trained. The engineering and IT services companies partnering with the Airbus include Hindustan Aeronautics Ltd (HAL), Infosys, Wipro among others.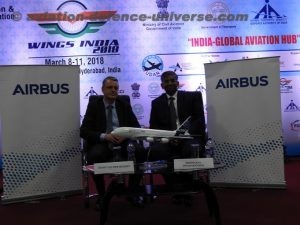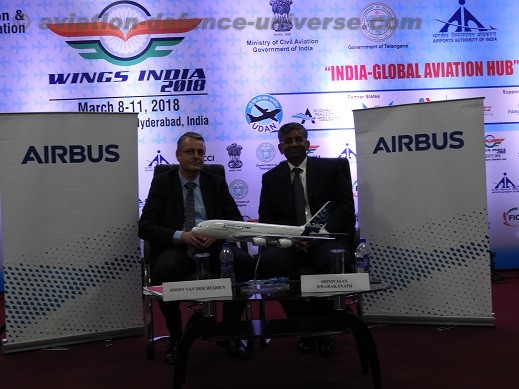 The large and constantly growing footprint in India Airbus also has its Airbus Bizlab in Bangalore.  "India is a strategic for Airbus and we are committed to increasing our footprint in the country. Setting up Airbus Bizlab Bangalore, reinforces this commitment by further enhancing India's aerospace entrepreneurial eco-system. We support the StartUps which have potential and even tie up with them if their projects match our needs, " said Dwarka.
Airbus and its subsidiary Navblue, just a couple of days ago  announced contracts with two Indian startups Neewee and Eflight  whose  solutions will  be a part of Airbus' manufacturing needs.