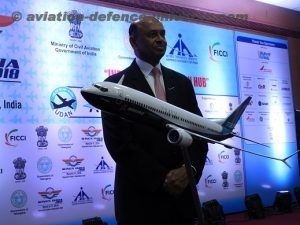 By Sangeeta Saxena
Hyderabad. 09 March 2018. The show can be dull but the sparks are never far away when the world's greatest rivals Boeing and Airbus are the cynosure of all eyes and both of them have their earmarked press conferences to talk to the world.
Day 1 at the show clearly belonged to Boeing when their Senior Vice President of Sales, Asia Pacific and India, Dinesh Keskar informed that the growth of the domestic Indian market is the highest in the world and predicted that every segment of traffic in and out of India is going to grow for the next 20 years. "While the growth in airline passengers over the next 20 years is expected to 4 % globally, it is estimated to be 8 % in India," he emphasised.
With an impressive order book of 175 for Spicejet , 75 for Jet and 10 787s for Air India, Keskar reiterated that Boeing is a dominant player in wide-body in India and almost equal to its rival Airbus in narrow-body. Delivery of 737 MAX for Jet Airways and for Spice Jet is slated for mid-2018.
Forecasting India's Aviation Market for next 20 years, he said the traffic growth in India is more than 20 per cent, exceeding the global average of 7.3 per cent while the domestic traffic exceeds 116.7 million passengers in last year.
In his visualisation of unprecedented growth in the Indian Domestic Market , he said that 8 per cent increase by Air India in last July against correspondent period in previous year (2016) followed by Indigo ( 20 per cent), SpiceJet (25 per cent) , Vistara (40 %), AirAsia India (46 per cent) and Jet airways by 9 per cent growth are signs of positive rise in the civil aviation sector.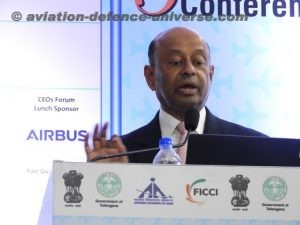 Out of 1,294 orders from 70 customers, 636 airplanes delivered in which 350 are 787-8 and 286 are 878-9 airplanes as on January 3, 2018. Over 170 new nonstop markerts now connected with 787 while only 9 new nonstop markets now connected with A350, he added.
Dinesh on a positive note added that among all the new airplanes to be delivered over the next 20 years globally, 39 % will be in Asia region. Economic, demographic and regulatory trends are contributing to the growth of aviation in India, creating demand for more aircrafts. Also, recent rupee appreciation has helped airlines here maintain profitability, leading to a positive mood in the sector.
The biggest problem which needs to be sorted are fuel prices which have risen 81 per cent since early 2016. Indian carriers pay 110 per cent more for fuel than the US carriers, he felt.
Emphatic that the government's UDAN scheme could open up a new market for aircraft makers like Boeing, Keskar felt that after four to five years of regular activity on the specified UDAN routes, these routes will become eligible to fly a Boeing 737.
When asked about the middle of the market, often abbreviated MoM, the airliner market between the narrowbody and the widebody aircraft, which is a market segmentation used by Boeing Commercial Airplanes since at least 2003, Dinesh was not very hopeful of the segment to come into production stage in the near future. In the Boeing lineup, it is between the largest Boeing 737 MAX 10 of 194,700 lb (88.3 t) of maximum takeoff weight (MTOW) for 178 passengers in two classes over a 3,515 nmi (6,510 km) range and the smallest Boeing 787-8 of 502,500 lb (227.9 t) for 242 passengers in a 2-class configuration over a 7,355 nmi (13,621 km) range. There's a 100 seat gap between the 737 and this MOM could just fit in well here.
Reiterating what Keskar said was the International Air Transport Association monthly update which stated that the domestic Indian passenger traffic increased by 17.9 percent in January from a year earlier, marking the 41st consecutive month of double-digit growth. Boeing is bullish on the growth in Indian market for both the OEMs and airlines and what could be a better situation.