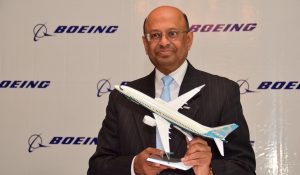 20-year Current Market Outlook predicts market worth $265 billion
By Sangeeta Saxena
New Delhi. 20 July 2016. A global demand for 39,620 new airplanes valued at 5.9 Trillion USD and an Indian demand of 1,850 new airplanes worth 265 Billion USD predicted for the next twenty years with a new civil aviation policy in place in India, makes aviation major Boeing happy as it steps into its second century.
"India the highest domestic traffic growth in the world at 8.6 percent, a domestic passenger traffic increase to 21 percent from 2015 and  low cost carrier airlines accounting for more than 60 percent of all flights, is the most growing region," said Dinesh Keskar, Senior Vice-President (Asia Pacific and India Sales) at Boeing Commercial Airplanes, while announcing the annual current market outlook for India.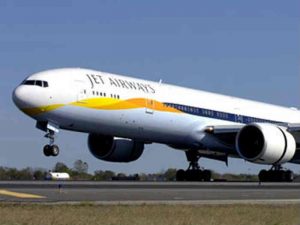 Domestic load factor increased from 76.4% to 82.5% in 2015 over 2014 and continues to rise in 2016 and fuel price has risen 35% over last 6 months, reflect on Indian market's capacity to keep the skies stable and not looking empty. And the recently cleared civil aviation policy seems a shot in the arm for the industry, feels Boeing. Indian carriers pay nearly 70% more for fuel than the US carriers.
"The new civil aviation policy brings optimism to the industry and is growth oriented. The 5/20 norm becoming 0/20 allows more airlines to go international which will also allow them to potentially consider buying more wide-bodied aircraft," he added.
Domestic passengers increased by 21% in 2015. Private airlines have a major role to play in this surge.  All airlines are showing year on year growth. Indigo continues its robust growth. SpiceJet continues its recovery. Vistara and AirAsia India continue their start up expansion. Two new regional carriers also began operations.
Comparing to the traditional competitor Airbus, Dinesh reiterated that 737-Max with 3,217 orders from 66 customers has  8% more fuel-efficient than A320neo, 325nmi more range than A320neo, 12 more seats and with the Boeing Sky Interior standard has highest reliability in its class and is an aircraft of choice in the single aisle market in India.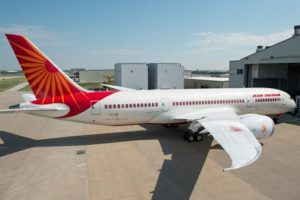 Boeing feels that the Dreamliner series with 1,155 orders from 64 customers, 424 deliveries to 39 operators and a product rate at 12 per month with  focus on in-service reliability, is the most sought after aircraft by airlines in India, for long haul.
"The 787 Dreamliner family has the -8 which is proving resilient to market expectations, -9 which is preferred for mission capability and economics and -10 which will set the new standard for twin-aisle. -8 and-9 have flown 102.3million  passengers, done 538,600 flights,  covered 2.96M flight hours, has 470 nonstop routes and 100 new markets. -10 has over 90% commonality with 787-9 has Design is on track for 2018 delivery ," he added.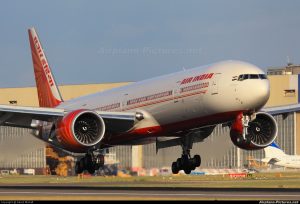 777X introduces the latest in engine and wing technologies, serves long-range and high-cargo demand markets to open new growth opportunities, Boeing feels. "777 family is outselling A350-1000 by more than 4 to 1, has seamless market coverage from 200 to 400 seats, 12% improvement in fuel efficiency over A350-1000, 10% improvement in operating economics over A350-1000 and more payload-range for market coverage and network flexibility. It has a new advanced GE engine with Laminar Flow Nacelles, lower emissions and community noise, largest composite wings, advanced flight deck displays, flexible 10-abreast seating 350 to 425 passengers to improve passenger experience," Keskar said.  The production for 777X will begin from 2017, flight tests are due in 2019 and the first delivery will be in 2020.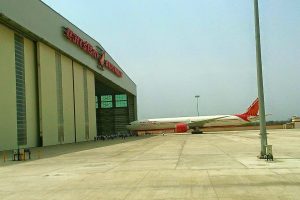 "Boeing's MRO which  has been handed over to Air India post completion has a capacity to accommodate two 777 size wide body aircraft and six 737 size narrow body aircraft. It has provisions for a major component overhaul shop and has finished C-checks of eleven aircraft," he informed.
Keskar ended his tete-e-tete with the media personnel in with, "Boeing's strong orders and deliveries for the Next-Generation 737 and 737 MAX underscore how we are meeting our customers' demands and expectations, offering them the most fuel efficient, reliable and capable airplanes. We also continue to be the preferred choice for widebody airplanes in India, with more than 85 percent of the market share."