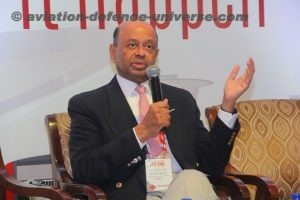 New Delhi 20 January 2018. 
Dr Dinesh Keskar, Senior Vice President Asia Pacific and India Sales, Boeing, said, "One out of every 20 aeroplanes sold worldwide is to India. That shows the magnanimity of the available opportunity in the country. The market is here, the growth is here and people (skilled workforce) are here. This opportunity in MRO should be tapped in time." He was delivering the keynote address at the The first edition of 
'
Aerospace and Defence MRO South Asia Summit 2018
'. 
He continued that Boeing spent 107 million dollars in building the Nagpur MRO facility which is being run by Air India. He further said, "The challenges for MRO are infrastructure, finding land, land acquisition, the higher duties on spare parties etc. Forums like this should collectively compile the suggestions and submit it to the different ministries."
A panel consisting of Ashish Saraf, VP & Make in India Officer, Airbus; Kishore Jayaraman, President India and South Asia, Rolls Royce; Air Marshal JN Burma, PVSM AVSM VSM (Retd), Indian Air Force; Arun Kashyap, Executive VP Head of Engineering &Maintenance, SpiceJet; Harpreet de Singh, Exe. Director and Chief of Flight Safety, Air India: m Balakrishnan, Consultant, Air India Engineering Services Limited; Amber Dubey, partner and head of Aerospace and Defence, KPMG,  deliberated on Make in India– MRO Makes it happen.
The conference also saw deliberations on subjects like 'Defence MRO- Seizing the big opportunity', 'Internet of things, Big data analytics & Artificial Intelligence: strong tailwinds fir for future MRO' and  'Key business drivers shaping the global MRO market in the next five years'.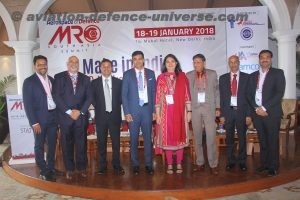 Discussions on Regulatory and government policy framework supporting Indian MRO and Building a Robust logistics and Supply chain infrastructure for India's civil & defence MRO also stated that legal repercussions and compliance were matters of concern for the industry.
Aerospace and Defence MRO South Asia Summit 2018 was organized by The STAT Trade Times and was supported by Air India Engineering Services Limited (AIESL) and  Aeronautical Society of India. The conference also had partners Ultra Aerospace, Ramco Systems, Compass Law Associates, and Avion World.