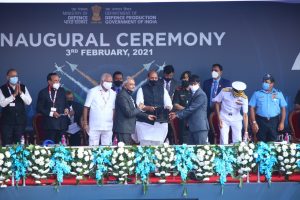 Delegates from more than 55 countries & 540 exhibitors in attendance
Aerobatics enthrall as fighters roar
Yelahanka, Bangalore. 03 February 2021. Will it happen-it will- no it will not – it will but will be a dull show- all such speculations of the last six months were put to rest when the gates of the show opened to the world this morning and Aero India 2021 took off to a flying start despite corona clouds. Representation is less than preious years but more than sufficient in current times when shows world oer have gone digital or got cancelled.
Being organised in hybrid mode with a concurrent virtual exhibition to encourage maximum participation, the show was inaugurated with fanfare by the Defence Minister of India, Rajnath Singh. Opening the proceedings Secretary (Defence Production) Raj Kumar said that India has taken a leap in organising a completely COVID compliant Aero and Defence exhibition. He expressed his gratitude to ambassadors and delegates from more than 55 nations who were in attendance and said that the large attendance at Aero India 2021 reflects positive temperament of people across the world and renewed global interest in the capabilities of India.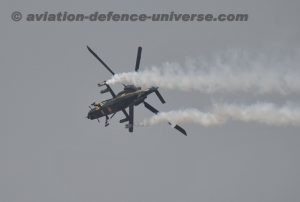 He said that Aero India 2021 would provide a platform for exchange of ideas and forge partnerships in the aerospace and Defence sectors. He also provided a brief about the events to be organized during Aero India 2021, including the Chief of Air Staffs Conclave, the Bandhan ceremony and the India Pavilion.
Later contract documents to produce Light Combat Aircraft Tejas were handed over by the Ministry of Defence to Hindustan Aeronautics Limited (HAL). Chairman and Managing Director, HAL R Madhavan presented a model of the Light Combat Aircraft (LCA) Tejas to Defence Minister Rajnath Singh. This was followed by the screening of a short film on the journey of the aircraft.
Addressing the gathering Rajnath Singh expressed his happiness at the attendance of delegates from around the world at Aero India 2021. He said that the existing supply chains developed over the years by aerospace and engineering firms and an investor friendly government with simplified procedures and single window clearance mechanism makes Karnataka an attractive destination for industry. He expressed his gratitude to Chief Minister of Karnataka B S Yediyurappa for extending full support in organising Aero India 2021.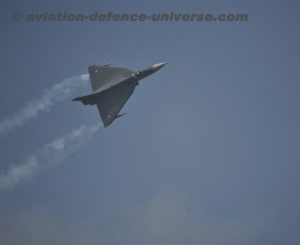 Speaking on Aero India 2021 Rajnath Singh said the exhibition would display the vast potential and the multifarious opportunities that our country offers in the field of defence and aerospace sector. He added that it promises to be the world's first ever hybrid aero & defence exhibition with a concurrent virtual exhibition making it a truly digital and global event. He appreciated the growing optimism of the global community, reflected in the participation of over 540 exhibitors including 80 foreign companies and defence ministers, delegates, service chiefs and officials from more than 55 nations. He highlighted that the unique opportunity in defence and aerospace manufacturing that India offers through a "Sangam" of rising demand, greater innovation, conducive policies and maturing ecosystem in the sector.
Rajnath Singh also announced that the government plans to spend 130 billion dollars on military modernisation over the next seven years. He said that steps had been taken to strengthen the nation's security apparatus with domestic manufacturing and complex Defence platforms becoming the focus of the Aatmanirbhar Policy. He said that the government had enhanced Foreign Direct Investment in the Defence Sector up to 74 per cent through the automatic route and 100 per cent through the government route. Hailing the reforms brought in by the government since 2014 he said that they would create a conducive system for exports, foreign direct investment and offset discharge. The Newly introduced (Buy Global-Manufacture in India) category of capital procurement in Defence Acquisition Policy 2020 allows outright purchase of equipment from foreign vendors and indigenous manufacture through an Indian subsidiary, a joint venture or an Indian agency. He said a large number of indigenous Defence equipment had been developed by Defence Research and Development Organisation to cater to the needs of the nation's defence forces.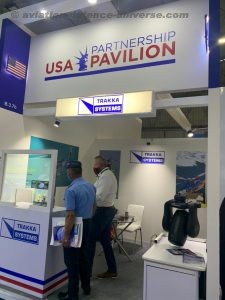 He informed that reforms aimed at bringing ease in doing business, have shown good results. India has jumped from 77th rank in 2019 to the 63rd rank in the World Bank's Ease of Doing Business Rankings. He added that industrial licensing requirements have been eliminated for a number of items in the defence sector. More than 500 companies have now taken defence licences, doubling the number in the last 6 years. Shri Rajnath Singh invited business leaders from across the globe to take advantage of the various initiatives of the government of India and set up manufacturing units.
Rajnath Singh said that the India pavilion at Aero India 2021 would showcase India's design and manufacturing supply chain associated with various facets of the rotary wing system. He expressed happiness at the organisation of the first Indian Ocean Region's Defence Ministers' Conclave with the theme "Enhanced peace, Security and cooperation in the Indian Ocean Region" in this edition of Aero India. He said that this was an implementation of the concept of the Indian Ocean built around Security and Growth for All (SAGAR), visualised during Prime Minister Narendra Modi's visit to Indian Ocean Island states in 2015.
Chief Minister of Karnataka B S Yediyurappa said it was a matter of pride for people of Karnataka and Bengaluru for being selected to host yet another edition of Aero India. He said that the holding of Aero India this year was an expression of confidence in the ability of the state administration to tackle the COVID-19 pandemic and assured that his government has taken measures to ensure the safety of participants and delegates. The Chief Minister said that Karnataka made a significant contribution to the nation's aerospace and defence sector of India and was the first state to announce an aerospace policy with a proposed investment of close to Rs 14,700 crore and employment potential for about 10,600 people.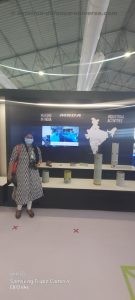 He highlighted the role of Micro, Small and Medium scale enterprises in the growth of the country's industry. The Chief Minister said that "Laghu Udyog Bharati" and IMS foundation with the support of Government of Karnataka would be organising the MSME, Aerospace and Defence expo in Bengaluru from 27th to 29th September, 2021 to realise the potential of MSMEs and requested the support of the Ministry of Defence in this endeavor. He thanked Raksha Mantri Shri Rajnath Singh for reposing faith in the Karnataka Government for Aero India.
Additional Secretary (Defence Production) Sanjay Jaju delivered the vote of thanks at the inauguration. Minister of Chemicals and Fertilizers Shri D V Sadananda Gowda, Chief of Defence Staff General Bipin Rawat, Chief of Air Staff Air Chief Marshal Rakesh Kumar Singh Bhadauria, Chief of Army Staff General M M Naravane, Chief of Naval Staff Admiral Karambir Singh, Defence Secretary Dr Ajay Kumar, Secretary, Department of Defence R&D and Chairman, DRDO Dr G Satheesh Reddy, Civil Aviation Secretary Shri Pradeep Singh Kharola and Defence Ministers, service chiefs and ambassadors of various countries were also in attendance. The event concluded with a glorious fly past as patriotic tunes played in the background, enthralling those in attendance.
Rajnath Singh also released the Export Compendium of Defence Research and Development Organisation (DRDO) which consists of defence systems and platforms, which can be exported to friendly countries.
The Chiefs of Air Staff Conclaveis also being held at Aero India 2021 where Chiefs of Air Staff (CAS) of more than 24 countries are attending the conclave physically and 16 virtually. The theme of the two-day event is "Leveraging Aerospace Power for Security and Stability".
The flying display enthralled the audience with AEW&CS, ALHDhruv, ALHMKIII-Military, Antono An-48, B=1BLancer,HAL Do-228, CSIR_NAL Hansa, Hwk-i, HTT40,LCA AF-Mk1, LCH and LUH. Inspired by the Prime Minister's call for Aatmanirbhar Bharat, the flying display is featuring formations showcasing India's cutting edge technology and capabilities in the aerospace sector.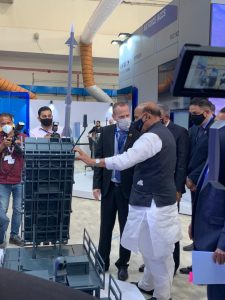 Ministry of Defence was relentlessly giving impetus to domestic manufacturing of defence equipment, not only to fulfil the demands of our armed forces, but also to make India a net exporter of defence equipment and platforms to friendly foreign countries. Set against the backdrop of Bengaluru, the event offers opportunities for collaboration and cooperation between Indian and global industry leaders, academicians, visionaries, centre and state administrations. It has brought together the defence ministers of various countries, service chiefs, policymakers, foreign OEMs, industry, entrepreneurs and academia to showcase, connect and collaborate as well as highlight policy reforms driving India's new defence manufacturing revolution.