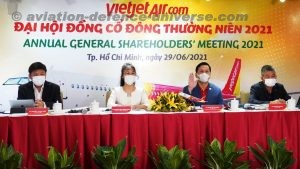 Ho Chi Minh City. 29 June 2021. Vietjet Aviation Joint Stock Company (HOSE: VJC) has successfully held an Annual General Meeting of Shareholders 2021 to review its business results in 2020, a year of overcoming the pandemic and to seek approval for the airline's 2020 audit report and 2021 development plan.
Following the positive forecast for 2021, Vietjet oriented its 2021 business plan delivering a "Back to the sky" message with a focus on domestic growth while being on standby for the resumption of international market in July 2021. However, taking into account the development of the COVID-19 pandemic afterwards, the airline's shareholders have passed a Resolution to resettle a more cautious business plan for 2021.
In particular, Vietjet has set the 2021's targets for air transport revenue at VND15,500 billion (approx. US$670 million) and the consolidated revenue at VND21,900 billion (approx. US$945million), achieving a year-on-year growth of 20%. Such will be mainly driven by an exponential increase in cargo revenue, new services in air transport, personnel training and aircraft maintenance and several investments in projects and finance. Vietjet is ready for the upcoming recovery phase.
The airline will keep revolving around its customer-focused strategy while striving for innovation and creativity. It is expected to digitalize every service available and operation protocols, growing business to improve its productivity and service quality. Vietjet is eyeing to have the passenger load factor reach 80% while the on-time performance stands at over 90%, and to serve up to 15 million passengers across its flight network.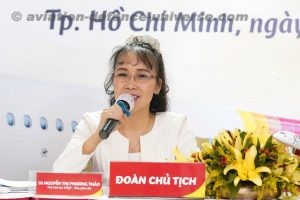 In addition to more investment into the Vietjet Aviation Academy (VJAA) for an infrastructure and equipment build-up, the airline is also investing in a technology park to welcome the arrival of aviation experts and activities as part of the efforts to make Vietjet one of the top airlines in the world.
Speaking at the Annual Shareholder Meeting, Vietjet's Presidentt & CEO Nguyen Thi Phuong Thao said: "As a better future lies ahead, we'll work hard and relentlessly to make it come closer."
At the event, the airline's shareholders also voted through the Proposal for the appropriation of profit in pursuant to Resolution 01-2020 of the General Shareholders Meeting 2020 and the appropriation of profit plan 2021. Accordingly, the Board of Directors (BOD) has declared a 25% stock dividend as previously approved in Resolution 01-2020 to focus financial resources on air transport business. The BOD will also decide on the plan for appropriation of profit in 2021.
To guarantee sufficient resources for a safe and efficient comeback of Vietjet, the shareholders agreed to let the BOD decide on a plan to raise charter capital through private placement of shares at a maximum of 15% of the charter capital. The BOD will also consider a US$300 million international bond offering in 2021-2022 to allow Vietjet to improve its financial position and to stay in track of sustainable growth.
The shareholders have also passed an employee stock ownership plan (ESOP) to issue up to 10 million shares. It is expected to drive a boost for innovation and creativity, encouraging the working spirit and employee retention for the sake of Vietjet's development.
In his remark at the event, General Director of Civil AviationAuthority of Vietnam Dinh Viet Thang spoke highly of Vietjet's enormous efforts to remove obstacles and sustain its business during the pandemic, especially in abiding by strict COVID-19 prevention regulations. He said that the company has played an active role in many Government's campaigns including repatriating Vietnamese overseas and airlifting disease prevention equipment.
Deputy Minister of Transport Le Anh Tuan at the meeting has also recognized that Vietjet has contributed a fair share to the development of air cargo sector in Vietnam.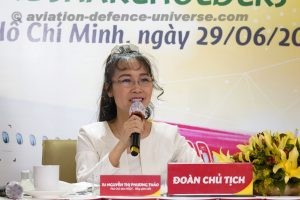 "The Ministry of Transport highly appreciates Vietjet's dynamic management approach. The pre-pandemic Vietjet was the most efficient airline in terms of productivity with its profit in 2019 the largest in the aviation industry. We believe that Vietjet will be able to stay on this track once the pandemic is over," Le said.
Taking into account the recent COVID-19 vaccine rollout in Vietnam and positive signs of the aviation industry in the US and Europe, the shareholders have expressed their beliefs on the close direction and orientation of the BOD and the determined orders of the Board of Management (BOM) as well as relentless efforts of all of Vietjet employees. The BOM has committed to bring Vietjet through the pandemic and carry out further business innovations for a strong, efficient and sustainable development in the context of Vietnam forecasting a 6.7% of GDP growth this year amid a recovering global economy.