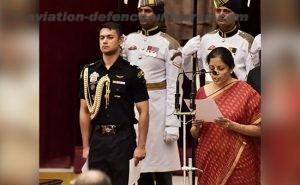 New Delhi. 03 September 2017. In a refreshing and very unconventional approach Prime minister Narendra Modi chose Nirmala Sitharaman to lead the Defence Ministry. So if we keep aside the fact that Indira Gandhi as Prime Minister also kept Defence with herself, Sitharaman is the first woman to become the Defence Minister of India. From Minister of State for Commerce to Defence Minister is a giant leap . And finally India has a full time Defence Minister.
"I am just overwhelmed and humbled. I can serve the country with something which is constantly on the top of my mind," Sitharaman said. She added that she was confident of managing her portfolio as well as electoral responsibilities for the 2019 Lok Sabha polls.
It is a case where a Minister who has performed well gets awarded. Anticipation is strife in the corridors of South Block which houses the Defence Ministry, which has so far been a male bastion. So now the complete South Block has two women ruling the roost. Sushma Swaraj-the External Affairs Ministry and Nirmala Sitharaman the Defence Ministry.
Leaving the Board room for War room the new Defence Minister has challenges of procurement, disturbances on both Line of control and Line of Actual control, fulfillment of  military modernisation programme, restructuring of the armed forces and ensuring well equipped soldiers and the forces. And all this in addition to clearing every month the pending demands of the the three services. she has a heavy task ahead and big shoes of her predecessor to fit into. But her whole -sole concentration on the ministry given to her and past reputation of successfully reshaping commerce ministry for the better, will together make her just the right person on the right job. Indian Defence Ministry might have just been waiting for this change.
She has served as a Minister of State for Finance and Corporate Affairs under the Ministry of Finance headed by Arun Jaitley and the Minister of Commerce and Industry with independent charge. She is a Rajya Sabha member and represents Karnataka in the Parliament.