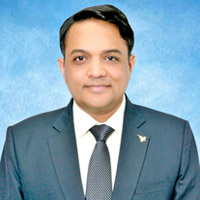 Pratesh Gandhi , Director , International Strategic Development – General Atomics in a monologue interview with Managing Editor ADU  Brig. VK Atray At Mast Indo-Asia 2018 (Transcribed Video).
" I'm Pradesh Gandhi, I am director, international strategic development for General Atomics and affiliated companies based here at New Delhi, India. As you'd be aware General Atomics has recently announced the opening of its office in Delhi and we have a small delegation over here from the United States representing General Atomics at the MAST symposium which is currently being held at Greater Noida.
At the outset I'm very thankful to Aviation and Defence Universe for providing me this opportunity to reach out to you all. We are very proud to be here at MAST because it represents the kind of community that we would like at General Atomics to reach out specifically with regards to the maritime interest of India and the customer base that is now interested in bringing here to fore the technologies around the world into the Indian defence as well as civilian maritime spectrum.
As you'd be aware General Atomics has two main verticals the Aeronautical and the Electromagnetic section and the Indian government has immense interest in both our main concerns, that is the Electromagnetic spectrum as well as the Aeronautical side. We do hope that the Indian government and the US government will reach a resolution soon as to the requirements that the Indian military has with regards to the products General Atomics has to offer and we do look forward to a very very successful and profitable collaboration with India. Thank you."