https://youtu.be/23PT6DMVpd0
By Col NB Saxena
New Delhi. 18 December 2016. Regimental funds have been used traditionally by the regiments since the inception of the armies for the welfare of soldiers and battalions. The collection of regimental funds used to be by profits. However many a time in the interest of the regiment or battalion things were also done against the rule which may normally be called in public domain today as corruption.
One of the memorable example of such well intended corruption by the quarter master of the Assam Regiment during Second World War saved the lives of many soldiers. Today that is celebrated as the legendary regimental song- Badluram ka badan. The story is that of "Badluram" of the Assam Regiment; an Infantry regiment of the Indian army. "Badluram ka badan Zamin ke neeche hai….aur humko uska ration milta hai…" (Badluram's body is buried but we draw his ration) goes the regimental song.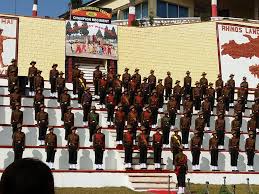 The legend of the song is based on a true story. Badluram was a soldier who died in the World War II. His Quarter Master was apparently 'smart' and continued to draw rations on the jawan's name.The surplus ration that collected in the name of Badluram over the months proved to be a godsend when the regiment was surrounded by the Japanese and cut off from supplies. The regiment survived the siege thanks to Badluram's ration and averted a possibly disastrous fate that could have resulted in many deaths goes the story.
Every passing out ceremony of young recruits at Shillong features a rousing, inspiring rendition of Badluram ka Badan; a thoroughly enjoyable and morale uplifting performance.
One feels that Army was a very open and transparent to all doings both wrong and right within the regiment but corruption in the interest of an organization , society or country is selfless corruption. Is this really corruption or not?  Lets ponder on it.